Doing a striptease is when you take off your clothes while you are moving sensually. It may be one of the best ways to start the foreplay, but some people think that doing a striptease is a kind of art. You may think that you need to know how to move your body in a sultry manner or how to do a suggestive dance, but these things aren't something really needed, and I want to explain to you why.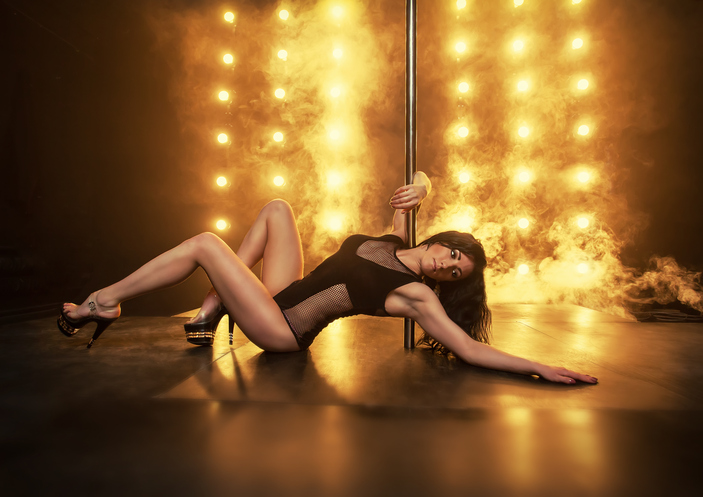 Despite there being several ways to run through a striptease, the key is the attitude over all of them. Be aware that if you want to surprise your partner with your first striptease, they will be very excited because it's something that delights the eyes of anyone. So, try to feel confident and sensual, you will see the result of your performance will be great.
However, you can do a lot of things to prepare yourself for this erotic dance. From choosing the perfect outfit and complements to taking a master class of pole dance to learn the best stunning movements you could ever do in front of your partner. Let's see how could you become the next Dita Von Teese!
What to do when there are eager eyes pointing at you
There is no doubt that the goal of the striptease is to excite the viewer, and excitation involves two things: slowness and suggestion. For the first, you will need to think which kind of movements you want to do while you are stripping. You can do an erotic dance by shimmying your hips and teasing your partner. You could also play with a chair, like the strip dancers do in the clubs, sitting on it and opening your legs while you maintain eye contact.
Remember, undress slowly unless you want to kill the striptease's essence. The performance will be finished when you are naked because, in that moment, the room will be heated enough to go to the next stage.
Consider taking some erotic dance classes or activities like pole dance or belly dancing before your first striptease. There are a lot of workshops where you could discover your best sensual facial expression and how to do sensual movements like losing your hair or moving your torso in front of your partner's face.
An outfit to take their breathe away
Here is where suggestion comes into the play. The perfect outfit is that one you can take off easily and leave something to the imagination. No-one is better than you to know which things excite to your partner, however, there are some basics.
Starting from the inside to the outside, choosing the right underwear is vital. There is a wide range of underclothes which will help you to get a sensual look by enhancing your boobs or shape. For this case, the underwear with laces and transparencies are the best options. The color shouldn't be a big deal because it depends on your taste, but if you still don't know what to choose, remember that you could look elegant as wearing black and the red underclothes awakes sensuality
It's highly recommended that you wear something very comfortable. You will need to move your body in several ways. Imagine yourself wearing a bra which fits perfectly on your breasts and a delicate thong which sets shape to your buttocks.
Obviously, you will need to wear something over your underwear to do a complete performance. As a first option, you can put on a satin gown, which show your thighs and a bit of your bottom. With this dress, you will feel comfortable to move your body, and you can easily take the gown off whenever your want while you are doing the striptease.
For the second option, you can wear a short dress or a mini-skirt with an elegant top on the upside part like a blouse, as if you were a secretary or a schoolgirl. This is sexier than wearing trousers, as you can take them off while you are giving the back to your partner. In addition, you could add to your outfit some fishnet stockings and garters, these will give you an erotic look.
Also, another recommendation is to wear high heels. They will enhance your legs' shape and are the best for a sensual dance. Nevertheless, if you don't feel comfortable wearing heels, leave your feet bare and try to move over the tips of them.
Tricks to fascinate them during your striptease
One of the things you probably will love during stripteases is the fascinated face of the viewer. It gives you clues if they are enjoying the performance or more than that. That's why, you can surprise your partner by starting your performance at the end of the night when he is waiting for you on the bed without knowing anything, and you go out of the bathroom dressed and prepared for the striptease.
Remember to look for the right music before everything. If you have your own dance, then you will already know what you should play, but if you are going to improvise, as you could imagine, not all kinds of music are the best for this case. Sensual sounds will help you to get the room hot, and you will find some ideas in some playlists on Spotify and YouTube.
Finally, don't be afraid to tease him. You have the control of the performance and your goal is to turn him on while you are driving him crazy. Don't take off all your clothes from the first minute, extend the show as long as you can, without letting him become bored. If you remove your bra, cover your breasts with your hands and dance back to him before he can see your boobs. Get closer to him, lick his neck until his face before you go, but don't let him touch you.
Surely, if you perform all these tricks, he will reach such a level of excitation that he might dock you on the wall at the end of the striptease. Finally, as I said before, there are a lot of ways to strip while you are dancing, so if you know more skills, don't hesitate to share them with us by writing in the box below!

Latest posts by Stella McGregor
(see all)