Setting up your first advert can be a challenge. You want it to be as quick and easy as possible, saving your time so that you can do other things. Here on Escort Scotland we want the same!
The latest features here on Escort Scotland make setting up your advert a simple process, and you can easily get yourself seen by potential clients. It's the perfect way to get started, so what are you waiting for?
The latest features and products are perfect for new users to the site, as they help you to get the most from your advertising profile. Not only can they get you seen by clients, but they also let you start advertising as soon as possible.
New Feature: Express Advert Creation
The Express Advert Creation tool is exactly as it sounds. It simplifies the advert creation process, so you no longer have to spend so much time creating an advert. Instead you can do it in no time at all, so for those of you with busy lives, it'll help you to save your precious time. You can get your advert up quickly and do the things that matter most to you.
While the Custom Advert Creation is useful when you have time to spare, for those short on it, it might be better to opt for the Express Advert Creation instead. This saves you time and allows you to concentrate on the things more important to you.
How to create an Express Advert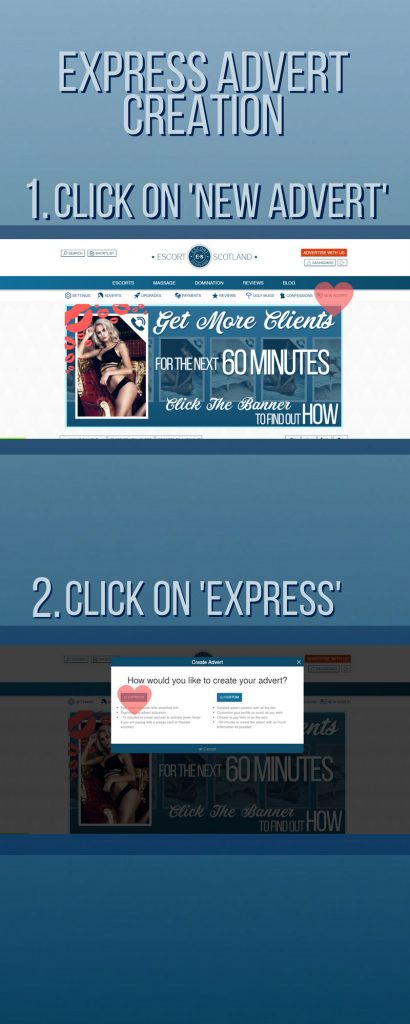 You can create an advert by going to 'profile adverts' on the pricing page or by choosing 'new advert' on your dashboard. Once there you'll see an 'express' button, which is where this new feature is. When you use the Express Advert Creation tool, you'll make your advert quickly and with minimal time spent.
The 'advert details' section lets you edit things like advert name, type, and the various details of your advert. If you need to change your contact information, you can do this right here.
The 'media' page allows you to add any videos or photos you want to use in your advert. If you need to upload a new verification photo, you can do this here too. In the 'tour' section you'll find that things have been made even simpler, as you simply insert your hourly rate and choose whether you take incalls or outcalls.
New Product: Reactivation
The Reactivation product is ideal for those hoping to be seen by more potential clients. In order to use it, you'll need to have an escort account with an active profile, advert, or tour. If you don't have these things then the Reactivation will not work.
With the Reactivation product, you'll get noticed. Reactivation allows you to bump your advert and put you in the perfect place to be seen by new potential clients. When you use this product you'll appear in the first spot of the standard adverts on the homepage, location pages, and search pages. If you are looking to be seen, this is the way to do it!
How to get a Reactivation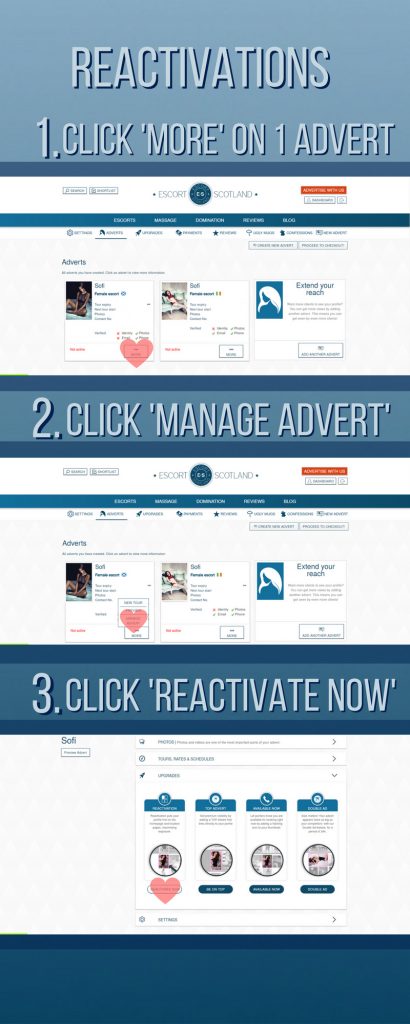 Using this feature couldn't be easier. All you need to do is go to your adverts, choose the advert you want, and click 'manage'. You'll see a 'reactivate now' button, and once you click it your thumbnail advert will move to the top of the standard adverts, giving you the attention you deserve!
Making the most of advertising
If you are new to advertising here on Escort Scotland then you'll want to make the process as quick and easy as possible. This is why using the Express Advert Creation tool is great for you! You can easily set up your advert and start getting business as quickly as possible. Your time is important, so why not spend more of it with clients and doing the things that are most important to you, instead of sitting at your computer making an advert?
As for the Reactivation product, it gets you noticed. Your thumbnail will appear at the top of the standard adverts on the homepage, search pages, and location pages. These locations are some of the first places clients look, so you are sure to draw their eye. You'll be seen and gain more clients just by bumping your profile!
Feeling eager to get started? Try out the Express Advert Creation tool and see just how quick and easy it is by clicking here.
Have your advert already set up? Get attention from new potential clients and be seen by bumping your advert to the 1st position with a Reactivation.