It was only a few months ago that we told you about the couple in Florida who were caught having sex on the beach. That doesn't seem that extreme anymore, given the amount of people getting it on in the hot weather, but as they were having sex in front of lots of people they were in a hell of a lot of trouble.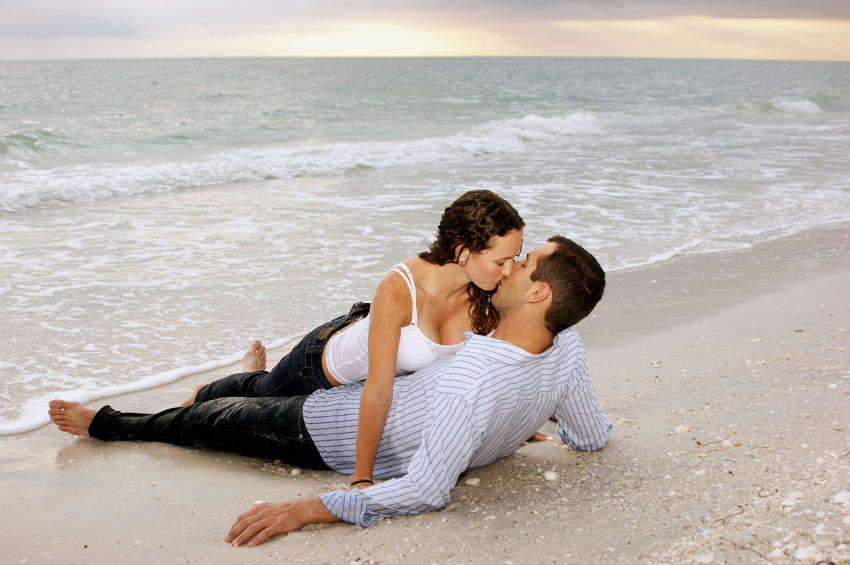 If you're looking at getting your freak on in public, you might want to rethink it, as a man has recently been sentenced to two years in prison for having sex on the beach in front of families. Next time you're thinking about having sex in public, you might want to think a little more carefully about just where you are getting it on.
What happened?
Two months ago, we told you about the randy couple who were caught having sex on the beach. It all seems pretty innocent, right? After all, lots of people have a hot fantasy about fucking on a hot beach.
However, the couple weren't exactly subtle about it. They had chosen Bradenton Beach in Florida for their fun, which might have been fine, but there were actually a lot of families around. In fact, there were some children playing only a few feet away from them.
One of those who called 911 about them described the scene as "disgusting", and an assistant state attorney said that it took place at "about 2:30 in the afternoon on a crowded beach", so we imagine there were a lot of people who felt this very public display of "affection" was "disgusting".
Not the most clever thing for them to do, but hey, if you're in the mood you have to take advantage of it, right?
The reactions
What is worse about it is that the couple tried to cover their actions up by denying that they were having sex. They really didn't want to get in trouble for fucking on a beach in front of families, so they decided that the best cover up was to say that the woman was simply dancing, rather than bouncing up and down on his cock.
As you might imagine, people just didn't buy that excuse. The assistant State Attorney, Mr Anthony Dafonseca, definitely didn't, as he said in his closing argument that "she wasn't dancing. It's insulting your intelligence to say that she was dancing."
The defence attorney fought back against this, stating that "in order to say they had intercourse, you would have to speculate" and that, in the court room, "you folks cannot speculate".
It seems pretty clear that the couple were having sex, but the prosecuting attorney Ed Brodsky explained that, no matter what they did on the beach, they simply "didn't care" about the impact their actions might have on the people around them.
It gets worse
This might all seem pretty hard anyway, as sex on the beach isn't something you'd want to end up in jail for, but for one of the party it was thought it might come with a very hefty jail term.
Mr Cabellero, the 40 man involved in this public sex, was thought to be facing a potential jail term of 15 years for his actions. 15 years is a hell of a long time to serve for fucking on a beach, but it seems that he has been in trouble with the police before, and had actually only been out of jail for three years when it happened.
It seems that he has recently been sentenced following his indecent exposure, and has been given a total of two and a half years in prison for his crime, where he had sex in public in front of children.
The thing is, Cabellero might have actually gotten away with it, had he listened to the people on the beach. It has now come to light that, at the time, a woman on the beach asked them to stop, but he became very confrontational instead of just stopping. If he had, maybe he wouldn't be facing such a long term.
The risks of public sex
Having sex in public is risky anyway – that is part of the appeal of it to many. They want the thrill of the idea of getting caught, and the best way for them to get that is to go somewhere where the risk is real. However, sex on a beach in the afternoon while surrounded by families? Not such a smart move!
If you have ever had sex in public, you'll know that you need to choose your place a little more carefully. For example, Cabellero might have been able to get away with sex on the beach if they had gone somewhere a little more discreet. Why not get a little sun shade to put around them to keep prying eyes away, or maybe even a little pop up tent?
Have you ever had sex on the beach? Is it worth the risk, or did you stick to the night so that you could fuck in the sand with no-one else around? Why not tell us your tale in the comment box below? You could even see what others are saying over on the Escort Scotland forum.
Whether Cabellero deserved such a strong punishment for fucking on a beach, I can't say, but at least we have learnt a valuable lesson from his inability to keep his cock in his pants! Latest posts by Lara Mills
(see all)