There are plenty of kinky things we would love to try to spice up sex. Some of them might be simple things, like a new position. Others might allow us to dip into the world of BDSM by trying things like bondage or spanking. For some, there is a real thrill from having public sex.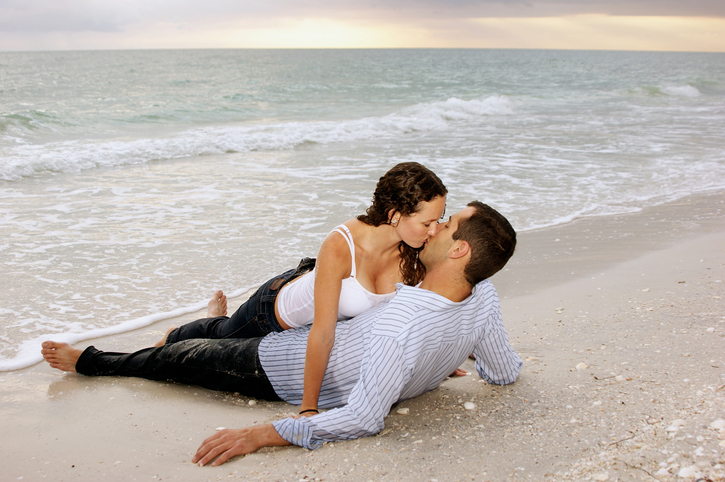 Sex in public is incredibly kinky. There is the chance that you will get caught, which could land you in a bit of trouble. However, this risk is what makes it exciting. It adds a certain thrill to sex that we cannot ignore, and turns us on!
The problem is that we hear about couples being caught having sex in public pretty much every week without fail, so we have to wonder… is public sex really worth the risk? Is there anything you can do to stop yourselves from getting caught?
What is public sex?
Public sex is, quite simply, having sex somewhere you can be seen by the general public. For some people this often translates to being outside, somewhere like a park in the glorious summer sun when your partner wants to sunbathe.
For others, they love the idea of sneaking off on a night out to find somewhere quiet to fuck. They might opt for a toilets or a dark alley where they will not be disturbed, which gives them the chance to have their fun without being discovered by others. After all, stumbling across a couple having sex isn't something everyone wants to find!
A number of people who feel like they want to enjoy fucking in public without going out into the world might opt for their garden. You might have high fences to cut you off from the world, or you might instead have neighbours out during the day. It gives you a little risk and a thrill without taking things too far!
Getting caught!
The problem is that people get caught having sex in public all of the time. Just this week we have heard about the couple caught fucking in Domino's and what has happened to them since, and one pair under a bridge.
These stories tend to make headlines because people love talking about sex, but they also like to ask "how could you get caught for something like this? Just take it indoors".
The problem is that this could land you in trouble. It isn't as simple as offending some people. You might end up in trouble with the police. Public indecency offences are the most common in these cases.
But it isn't just public spaces that are a problem. Last year we heard about the couple spotted fucking in their hotel room from a busy office opposite! Clearly we need to be a little more cautious about just where we choose to get amorous.
Avoid getting caught by…
Thankfully there are a number of different ways you can help yourself avoid being caught. Not sure how? You can avoid getting caught by…
…wearing appropriate clothing
Clothing, believe it or not, is one of the most important factors when it comes to public sex. If you have to both wiggle out of tight jeans in order to fuck, then you aren't dressed for the occasion. You need to choose what you wear carefully in order to make the most of it.
Go for loose trousers you can easily fasten in a hurry, just in case you are discovered. Your partner should opt for a skirt or dress they can easily lift up to allow you access. This will work out great for the pair of you, as you can then cover up in case you are spotted.
…choosing your location carefully
Some locations are just no-goes if you want to avoid being caught. If it is a place that sees a great deal of foot traffic, then it isn't a good idea to fuck there. Go for somewhere that is off the beaten path to be on the safe side.
We shouldn't need to tell you that places like parks tend to be a bad idea in the summer. When the sun comes out on those rare August days, you'll find that everyone heads to the park. This means that you might be best choosing somewhere a little quieter for your fun.
…be aware of your surroundings
We know how easy it is to get caught up in the moment. You'll become so focused on your partner and getting them to orgasm that you might just forget where you are. You won't pay attention to what is going on around you, which can lead to trouble.
You need to keep listening carefully. If someone is coming your way you need to know about it so that you can cover up. Have an excuse ready for why you are there and keep watch, just in case someone finds your little hideaway.
…keep the noise down!
Loud sex is fun sex. But when you are in public you want to keep the noise down. If you don't you are only going to attract people to you, and the warning of just what you are up to means that they might well come armed with phones to take pictures and videos.
Definitely not what you want! So try to keep the noise down. Without moaning and groaning too loudly, you'll be able to hear what is going on around you, helping you stay aware of your surroundings as we said above.
Is it worth the risk?
The big question is… is it worth the risk? For some people the answer is a big "yes". Public sex is incredibly kinky and fun and they cannot get enough of it. But for others it is too much. It might be fun, but they would rather keep things to themselves.
What do you think? You can let us know by leaving a comment in the box below or by voting in the poll. Latest posts by Lara Mills
(see all)