Men get very competitive and eager in the bedroom. After all, it's the dream of every man to make a woman come so hard that she worships the ground you walk on and can't stop bragging about your skills to her friends. Yes, we really will if you're that good.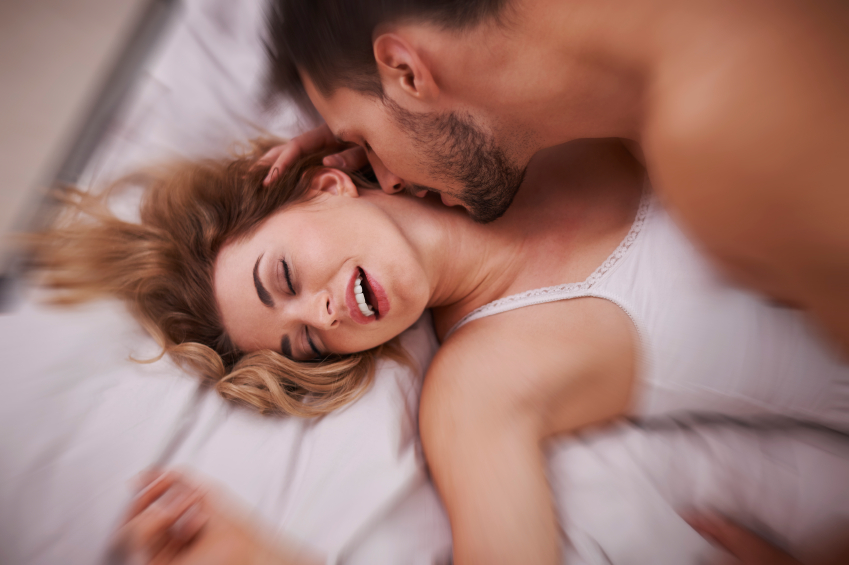 But being so good at sex that your sexy lady wants to share the stories with the rest of the world doesn't happen overnight. It takes time and skill, so just what do you need to do in the bedroom to become a sex god? We have some of the hottest tips to get her coming again and again, so you can make your sex life even more exciting!
Get her at a good time
We all have those moments when we are really eager to be fucked, and then we have those moments when they last thing we want to do is have sex. If you are eager to make her scream your name from the rooftops, you need to figure out when is a good time for her.
Obviously when it is getting late is a bad time. She'll be tired and won't give you the same responses that you are hoping for. Similarly, don't wake her first thing in the morning and expect her to enthusiastically to suck your cock.
Another bad time to get her into bed is after a dinner date. Lots of people will go out on a dinner date and splurge to impress their date, only to get back to the hotel room and find themselves unable to move because they've eaten so much food. No-one feels sexy when they are full and bloated, so save your skills for another time.
However, what does seem to be a good time is when she has been to the gym. Her body might be a little achy from the exercise, but if she's had a good workout then she will be feeling fantastic about herself. Her adrenaline will be pumping and she'll have this sexy glow about her, and that combined with her ass in those tight yoga pants is a great way to get you in the mood.
Tell her how sexy she looks and that you'd love to join her in the shower. You can slowly rub and massage her aching body with body wash, and as you stroke her tits and ass she'll get more and more aroused. Bend her over and take her from behind for a post-workout cool down that she won't forget, or head to the bedroom to "dry each other off".
Practice makes perfect
Sorry guys, but you aren't going to wake up one day and instantly know all of the right things to do in the bedroom. That might be how you want it to be, but that isn't how it works. Instead you should get to work on your skills, as they do say that practice makes perfect.
Being a sex god isn't as simple as making her come – you need to have skills in all departments and be able to get her to orgasm again and again. If you aren't feeling confident in your abilities, talk to your partner about them. They'll be able to point you in the right direction and tell you what you can do to get better in bed.
Let's start with oral sex. Far too many guys buy into the bullshit technique of spelling out the alphabet on her clit with your tongue. Don't' do it! We need constantly stimulation to get there, and if you keep changing the pressure and movement, we're only going to get frustrated.
If you are sliding your fingers into her pussy, don't just jackhammer them in there. Thrusting them quickly in and out isn't going to make her come any quicker. If anything, it will leave her wishing it was over soon, and a fake orgasm is far worse than no orgasm at all.
Let her take control when it comes to sex, but make sure you meet her halfway. If she likes to be on top, as it is a lot easier for her to orgasm in this position, thrust up to meet her as she comes down. This will drive your cock further inside her pussy and make her moan. You can always tease her nipples and squeeze her ass to drive her wild.
Don't be afraid of toys
Often, men are left feeling really frustrated that women take so long to reach orgasm, and honestly, it bothers us too sometimes. That is why we might suggest taking a toy into the bedroom, but this idea is usually shot down immediately and we are left to play with our toys when you aren't there instead.
We get why you don't want to take a toy into the bedroom. For some reason, you think that it will replace you or that it will show how inadequate you are. We're not sure why, as most women are well aware that their man will masturbate when they aren't around, and we don't get upset when your hand gets involved in sex!
Instead of being afraid of the sex toys, you should start to use them. The small vibrating bullets are a good way to ease into it, as you can hold one between your fingers and tease your partner by running it all over their body. Some are also waterproof, which means that you can hold it in your cheek as you give her oral sex. Your tongue and the vibrations coming from your mouth will have her screaming in no time!
Dildos are also a great tool to use during oral. You can keep your mouth on her clit and slowly slide her dildo into her tight pussy, listening to her gasp as it goes further and further in. When you pull it out, seeing her juices on the toy will make you want to slide in instead, and she will love the fact that you are comfortable using her favourite toy.
Your partner might love double penetration, and if you aren't interested in getting another guy in the bedroom, a vibrator is a fantastic way to simulate that. Lube yourself up and slowly slide into her ass, before using the vibrator on her pussy. If it has a clit stimulator attached then that is even better, as you will be able to work her clit, ass, and pussy at the same time! All you have to do is hold out and see how long you can last as she thrusts hard against you.
Do you think your skills are good enough in the bedroom to call yourself a sex god, or do you have some areas you need to work on? What topics would you like to see us write about next on the Escort Scotland blog? You can tell us your thoughts in the comment box below, or join one of the many discussions over on the Escort Scotland forum. We want to know your thoughts and registration is free, so what have you got to lose? Latest posts by Lara Mills
(see all)