I didn't pay much attention this story until it became a trending topic on Google's news tab. Additionally, it wasn't the title of the piece that got me, but the subheading that stated the article is a 'feminist debate'.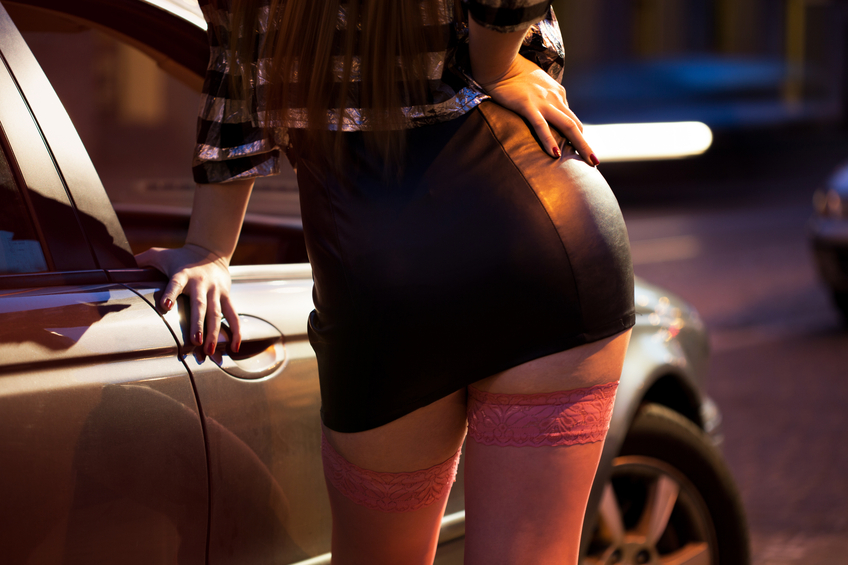 I first heard of the article from Laura Lee, when she tweeted that the Nordic model doesn't decriminalise sex workers, and that the writer has modified what an activist wrote on mumsnet.com.
So, I decided to spend some time looking into the statistics and evidence that Julie Bindel, the writer of the article, has embedded in her piece to explain her strange point that 'Legitimising the sex trade by removing all criminal penalties for pimps, brothel owners and sex buyers helps no one but the exploiters.'
First, what is the Nordic Model?
The Nordic Model is a prostitution law in Sweden that makes it illegal to buy sexual services, but not to sell them. Don't get it confused with the liberal economic and social policies in the Scandinavian countries.
The sexual services that are made illegal include pimping, procuring, and the operation of brothels. After its first enactment in 1999, both Norway and Iceland adopted a similar legislation in 2009, followed by Canada in 2014. If you've already found the loophole in that law, you're not alone.
Before I carry on, Bindel states that enacting the Nordic Model in all countries will no longer make women appear to be 'saleable objects'. She mentioned that there are women and men involved in prostitution, yet she insinuates that only women are seen as saleable objects. Hmm.
Moving back onto the subject of the Nordic Model, it doesn't make sense to prohibit the commercial consumption of sex, but not the sale of it. You will still be penalised if you own a brothel or if you're involved in prostitution, which is a part of sex work. It's exactly like what Laura Lee has tweeted on her Twitter page, the Nordic Model does not decriminalise sex workers.
'There has not been one murder of a woman in prostitution by a pimp or punter since the law was implemented in Sweden.'
Where is the evidence that backs that statement? If Bindel was able to find statistics that show that decriminalisation doesn't remove sexual violence from Germany and New Zealand, then I'm sure that she could find evidence that shows the decline of abuse in the sex trade in Sweden.
'Laura Lee has put forward arguments that prostitution is labour, and that the only harm to those involved comes from feminists and police officers.'
Laura Lee stated that she never said those words, and has backed it up with her own evidence. The screenshots speak for themselves.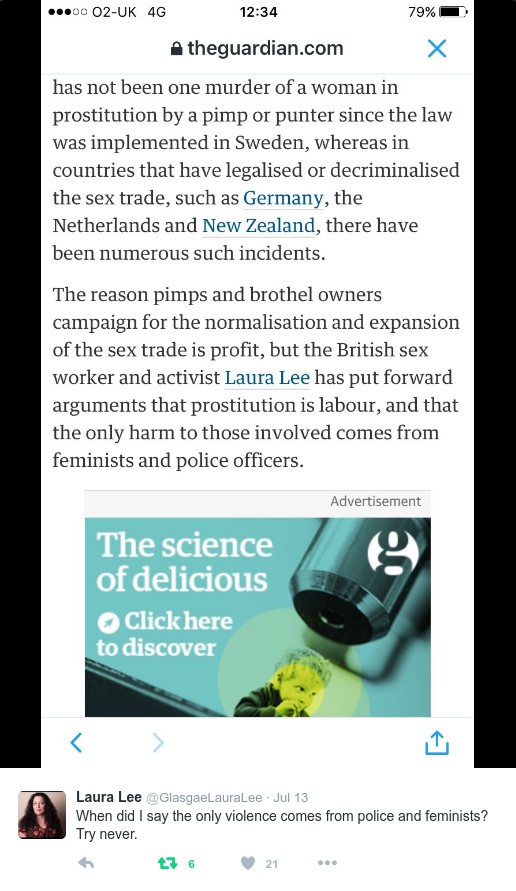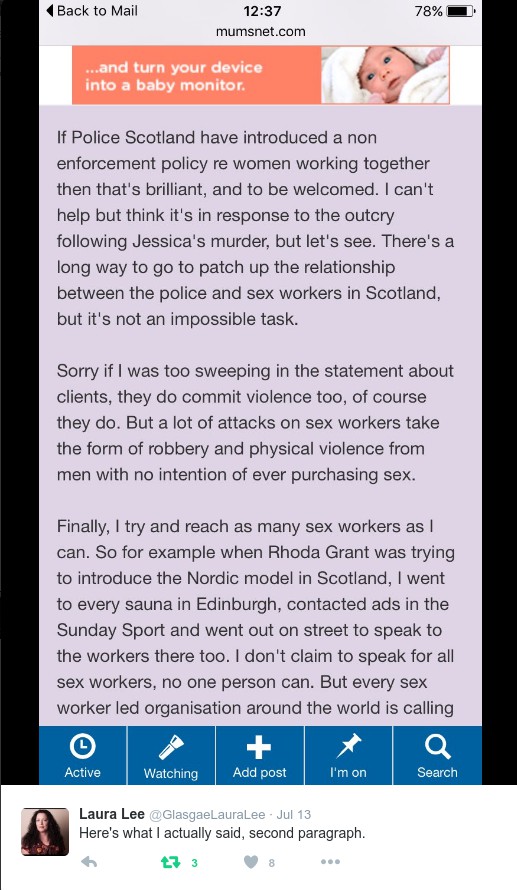 'The media representatives of the sex workers' rights movement are mainly atypical of those in prostitution.'
If she really believed that, then she shouldn't have referenced Laura Lee, because she's a campaigner and a speaker for SWAI Ireland, the organisation that supports and fights for sex workers rights in Ireland. If that is true, then all forms of media that support the decriminalisation and legalisation of sex work would not exist. Fuck, even porn wouldn't even exist, or be legal to watch.
Billie Piper, the actress that played as the protagonist in 'Secret Diary of a Call Girl', hit back against criticism about the show's context that there are 'middle-class, cultured, well-read women who take part in [sex work]'. That may only be an insight into the sex world, but there's more.
Vice has made dozens of articles about the real lives of sex workers, and urges their readers to validate how hard it is to work in the sex trade, not to mention how to make that trade safer to work in the future.
These forms of media are not sugar-coating the life of a worker in the sex trade; some women go into it because it's easy money or that they personally love working in the industry. Not once did they make any implication that they devalue or dehumanise the sex worker, otherwise, we would have spotted it in their content, or they would have never published that content. They state that it is their choice to work in the sex trade.
Oh, and Bindel's quote on how 'decriminalisation makes sense for the minority of privileged folk involved' can be debunked by Vice's article on Thai Sex Workers fighting for their right to earn a living in the trade. Let me assure you, the sex workers that live in Thailand are not privileged, and they're not a minority.
'Police powers have been reduced under decriminalisation.'
Open Society Foundations released a PDF on the net that states 10 reasons why sex work should be decriminalised. If you get the time to read the PDF, I want you to look at the 3rd section of the essay: 'decriminalisation increased sex workers' access to justice.'
In the paragraph, the Ontario Superior Court cited that most sex workers in Canada don't report rape or other forms of sexual violence in fear that they would be 'punished in other ways.' For example, if a prostitute reports to the police that she was raped in a country that enacts the Nordic Model, she would end up getting arrested because she was involved in procuring.
The correlation between decriminalisation and police power would state that a barrier would be taken away from the workers that report the violence, the police that would arrest the attackers, and the legitimate justice that would be served.
'Pimps still exist, but become business managers, and brothels are rebranded as regular business.'
For many sex workers, this statement can be seen as an insult, not because they are pimps themselves and have their own brothels, but because it implies that sex work cannot be validated as work. This is what organisations and campaigners, like Laura Lee, are trying to get rid of, the social stigmatisation and prejudice against sex workers, whether they're men or women.
To say that it's only sex workers that receive abuse disregards the fact that workers in a different trades receive abuse too. Not everyone can do all of the jobs that you could think of in the world, otherwise, we wouldn't have women that have a negative view on the sex trade; that's the reality of it. But to say that 'decriminalisation also led to an increase in people working in the sex trade', and to say it as if it's a bad thing is offensive to men and women that enjoy working in that industry.
Don't scare people that want to work in the sex trade
In my opinion, the article that's published on the Guardian website is based on the moral issues of the writer that uses unsubstantial evidence and hearsay to back up her point. Unfortunately, an example such as this emphasises the stereotype of an abolitionist, like Julie Bindel; a person who would modify and cherry pick certain information to support a movement that would fit her criteria, or the criteria of her chosen political ideology.
Therefore, I call bullshit on your article, Julie Bindel. And from looking at the comments left on your article, most of them are calling bullshit too.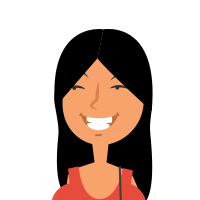 Latest posts by Zoe Jaspers
(see all)