We love boobs. They feel fantastic to hold, amazing to kiss, and they just look so irresistible. We love any excuse to play with them, no matter what that might be, so the idea of enjoying a little nipple play seems like the perfect thing to do.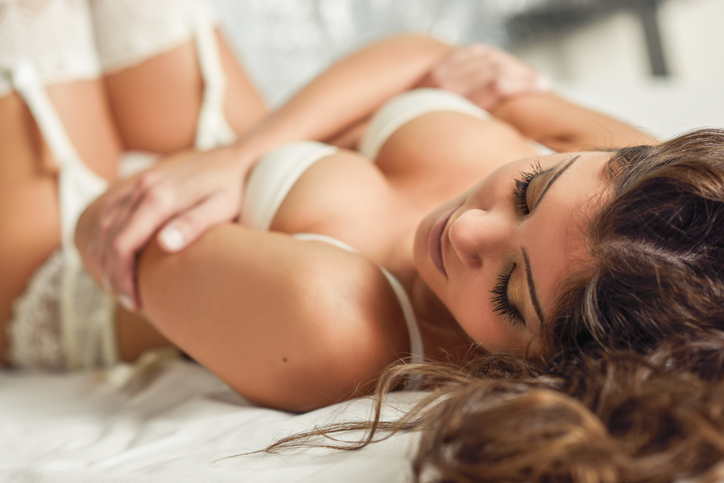 For a lot of women it feels great when you pay attention to their nipples, as they are sensitive. But did you know that some women an actually reach orgasm through nipple play? It looks like you've got another perfect excuse to pay attention to those beautiful boobs.
Unsure of what exactly you should do during nipple play? We have five fantastic things you can try to really make the most of it and make them feel good.
1. Stroking
When you first see their boobs, the first thing that you'll want to do is reach out and touch them. You'll want to get your hands on their glorious globes and give them a bit of a squeeze… so why not pay this same attention to their nipples?
You can hold their tits in your hand and use your thumbs to slowly stroke at their nipples. You can watch as they turn hard under your attention. Start by slowly circling around the nipple and watching what happens. It will feel great for your partner and then you can turn your attention towards the nipple itself. Go slowly to really build up the tension.
Treat their breasts like you are going to massage them. It's a great excuse to whip out the lube, and you can get a huge variety of different lubes to spice things up. A tingle lube feels great on the nipples. Trust me, I've done a lot of experimenting. You know, for science.
2. Kissing and licking
After giving those nipples a little love with your hands, it is time to get your mouth involved. You want to slowly tease up to putting your lips on them. Kissing the outside of their tits and work your way inward before gently kissing their nipples.
Then you can put your tongue to work. You can use just the tip of your tongue to slowly make their nipples harder.  Go gentle or hard and fast, depending on your mood. The flat of your tongue works well to touch all of the nipple, and you can try different directions and techniques to see how they respond best.
3. Sucking
There are a number of other things you can easily do with your mouth and tongue while you are paying such close attention to the nipple, such as sucking. Sucking can feel fantastic for your partner, especially if you have been slowly teasing them beforehand and making them beg for more.
As with everything else, you'll want to start slowly. Suck lightly and then build up the tension. Go harder, and while you suck you can use your tongue to swirl around their nipple. The combination of techniques will have them moaning in no time at all.
4. Pinching and biting
Not all of the attention you give to their nipples has to be soft. In fact, a lot of women like it when you bite or pinch their nipples. You can vary just how hard you do it and see their reactions. They might prefer gentle touches slowly building up to harder ones.
Pinching is better to begin with. You can hold the nipple between your thumb and forefinger and give them a squeeze. This allows you to watch their reactions, before bringing your teeth to them. The mix of pleasure and pain will be incredible.
5. Temperature play
If you want to make your nipple play a little kinkier, you can explore temperature play. Temperature play in the bedroom is sexy and fun, and you don't need to buy any specialist equipment to do it. Simply grab some ice cubes from the freezer and put them in a bowl to take into the bedroom. You can rub one over her nipples or hold it in your mouth to mix your hot mouth with the cold ice cube.
Eager to heat things up? Grab a candle. You can drip melted wax slowly from a height. The height will allow it to cool down enough so that it doesn't burn them, but it'll still have a heat to it, making it feel fantasy!
Using the right candle for temperature play is important. What makes it challenging is that there are all sorts of different candles out there. Not only are there massage and bondage candles, but there are also varieties of standard candles. Jess Wilde does an amazing job of demonstrating the differences between the candles, so if you aren't sure, check out the video to decide which is best for you to use!
Do you love nipple play?
Nipple play is one of the sexiest things that you can do in the bedroom. It can really spice up sex and add something new to your routine. Plus, most nipples are sensitive, and playing with them makes your partner feel amazing.
Do you have some other tips for temperature play? You can share them easily simply by leaving a comment below. Give us your top tips and techniques for making their nipples rock hard. Latest posts by Lara Mills
(see all)