Of all of the hot fantasies and kinky things we want to try out in the bedroom, a threesome always seems to be up there. There is something really hot about having not just one person to fuck in bed, but two. It is a great way to tick off one of the things you will probably have on your sexy bucket list.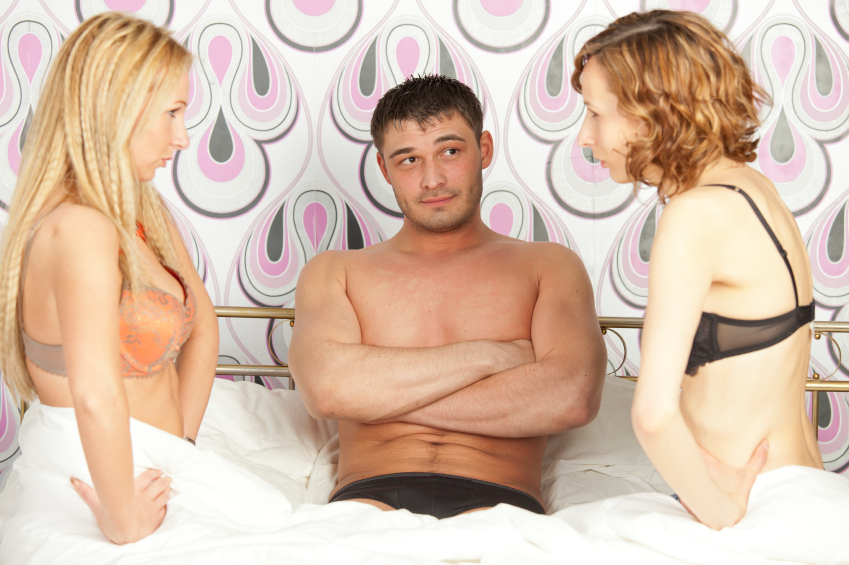 However, when it comes to threesomes there also seems as though there is a lot that could go wrong, and when it does go wrong it can be really tough to recover from it. If you want to prepare yourself for some of the things that can go wrong during a threesome, and you want to know the best ways to make a comeback from it, we might just have the perfect guide for you below.
The attention should be shared
This is something that happens far too often during a threesome, and so we hear about it a lot. Some people, unfortunately, just use a threesome as a way to fuck someone else while their partner is there, and if that is what you want to do you should really rethink it. Threesomes are a way for you to fuck two people at the same time, not for you to basically cheat on your partner while they watch.
The attention should be shared when it comes to a threesome, but unfortunately we can sometimes get a little carried away. We might be enjoying the position we are fucking them in, or it might just be the change of scenery is great for us, but we can accidentally give more attention to one person than another during a threesome.
Should you realise that you have been doing this, the best thing to do is to try and make sure the other person is at least involved in some way. While you are fucking one girl, get the other to sit on your face so you can eat her out. That way, they are still involved and you still get pleasure.
Establishing rules
What is and isn't acceptable during a threesome really depends on those involved, and so before you go jumping into bed and stripping everything off, you should all sit down and talk about what does and doesn't work for you. If you can't sit down and have an open and honest conversation about threesomes, you shouldn't be having one in the first place.
Check the basics first. Is kissing allowed? Kissing with tongue? Who is going to finish you off? Is there anything that is completely out of bounds?
This conversation, before anything happens, is important because then you all know where you stand. No-one will be left in the bedroom feeling uncertain about where they stand, and you will all know what is and isn't acceptable. Should someone cross the line, take the time to talk about it and clear the air.
Don't rush it
Threesomes in porn are very different to how threesomes go in real life. In porn it is fast and a real fuckfest, where everyone is screaming in orgasm after only a few minutes. It is over in around ten minutes with everyone completely satisfied and not a frown in sight.
Of course, that isn't how threesomes work in real life, and if you go into it expecting it to be over in that amount of time, you won't have had a good one. Don't rush it, or you'll find you have wasted an even of what could have been passionate fucking simply going for what you want.
Take the time to fuck each person involved in the way they want, and keep things slow so that you can learn what works for them. It could be that a slow and long lick of their clit as them squirming against your face, but a fast thrust of your finger turns them off. Taking the time to learn what everyone likes will make it even more intense and exciting, which is turn will make the entire evening unforgettable.
Don't take on too much
With threesomes, you might feel as though you are expected to lie back and immediately have a pussy on your cock and on your face, or you might think that you have to finger fuck and lick out both women at once while they combine their hands and stroke your penis as fast and hard as possible.
That isn't the case. One of the biggest problems that people find in threesomes is that they try to take on too much or too many things all at once. This ties in to rushing it, and you really don't have to rush it. Simply take the time to enjoy things, and do it in a way that feels natural.
Start with kissing and slowly work your way up to moving down their body. As you do, keep swapping to make sure everyone is included. It will make things more exciting for everyone involved.
Let the numbers take control
You need to also learn to recognise just who is in control when it comes to a threesome. Plenty of men automatically assume that it is them, but they need to be paying attention to the numbers instead of what their cock wants to believe.
For example, if you are in a FFM threesome, it is the women in control. It is all about them instead of you, and they will lead the threesome wherever they want it to go. However, if you are in a MMF threesome, the men tend to be the ones in charge, which can dramatically change things.
Have you got a great tip for those enjoying a threesome, or have you made a mistake in a threesome we haven't covered? You can tell us your hot threesome stories in the comment box below, or you can see what others say by visiting the Escort Scotland forum. Latest posts by Lara Mills
(see all)