Dating as a sex worker is a real challenge. Many wish to be upfront about their jobs to save awkward conversations later on. However, it seems that Tinder is taking exception to this approach to dating.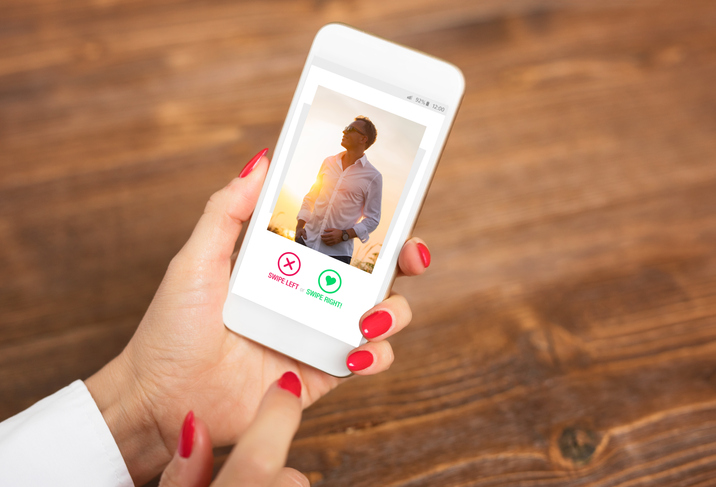 The dating app is reportedly discriminating against sex workers using the app, removing their profiles for being sex workers. Why is this happening?
Dating on Tinder
Trying to date in this current world climate is a bit of a challenge. It feels like a minefield to try and discover people who share your interests, or even just people you get along with. Since many of us are glued to our phones, it shouldn't be surprising that dating apps like Tinder are proving to be very popular for meeting new people.
The app is simple to use. You set up your profile, adding pictures and a brief description. The app then searches for interesting people near your location and shows you their profiles. For everyone you find that you like the look of, you swipe right. Not interested? You just swipe left.
Nothing happens until you and another person both swipe right on each other. You are then matched together and, if you so choose, can message one another. It could be the start of something beautiful… or the beginning of a wave of dick pics that you didn't want.
Tinder's sex work policy
Like many apps, Tinder is eager to discourage people from soliciting on their platform. In fact, they have put a ban on anyone using the app for this purpose. After all, it is a dating app, and so money should not be exchanged in order to use it.
Anyone caught using the app for this purpose has their profile removed and their account shut down completely They then receive a warning that their profile breached the terms of service of the app.
Seems like a fairly standard thing, right? The problem is that sex workers using the app for their own personal lives and not work have found themselves getting stung, with Tinder removing their profiles and shutting down their accounts!
Is honesty the best policy?
Sex workers want to date. When they are done with work they want to relax and unwind in good company, just like everyone else. They might be tempted to use dating apps like Tinder because they are simple to use and are popular. What's not to like about that?
The problem is that it is challenging to answer the "what is your job?" question whenever you match with somebody. So many sex workers choose to simply write their job in their profile. It means that anybody they are matched with knows what they are getting into.
Saying something like "I'm a student" or "I'm an office administrator" isn't an issue on the Tinder app. However, saying you're a sex worker is an entirely different matter. Tinder has begin to take action against sex workers.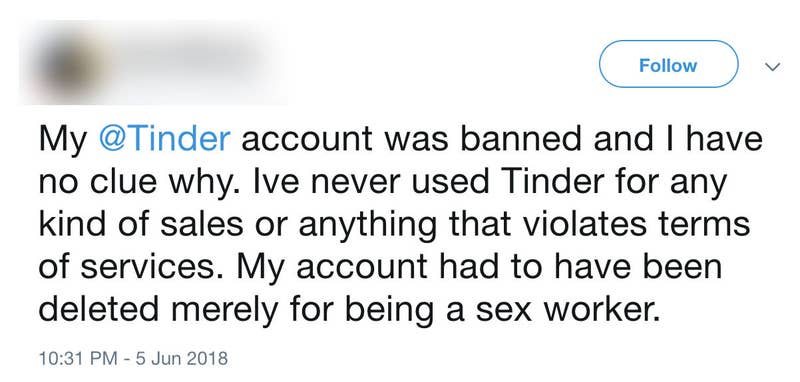 Are sex workers being targetted?
Clementine, a Vancouver-based sex worker, suggested in an interview with BuzzFeed that it might be as a result of SESTA/FOSTA that Tinder is taking such harsh action against sex workers using Tinder: "They're an American company and they can be prosecuted because of the anti-trafficking law – clearly I'm [not] being trafficked. It's bullshit. Maybe Tinder is just scared."
However, Tinder are shutting down sex workers all over the world. Endalaust, a UK-based sex worker and student, pointed out how this just builds on the stigmatisation of sex workers. "I can't join in, it's one of those things that's very subtle, but obviously to us, we're singled out – you're not part of our world, you're not human."
So it seems that, even though many sex workers are simply being honest about their jobs, it is making them targets. Does Tinder need to rethink its strategy? I'd love to hear your thoughts on this. You can leave a comment below or even join in the discussion over on social media. Latest posts by Lara Mills
(see all)