Unless you have been living in a cave for the last few months you'll have seen fidget spinners. Fidget spinners are small devices you can hold between your thumb and forefinger while it spins. They are designed for those who can't keep still and need to have their hands busy in order to pay attention. Sold in almost every shop and on every stall in the streets, they have proven to be very popular… as you can see for the latest porn trend.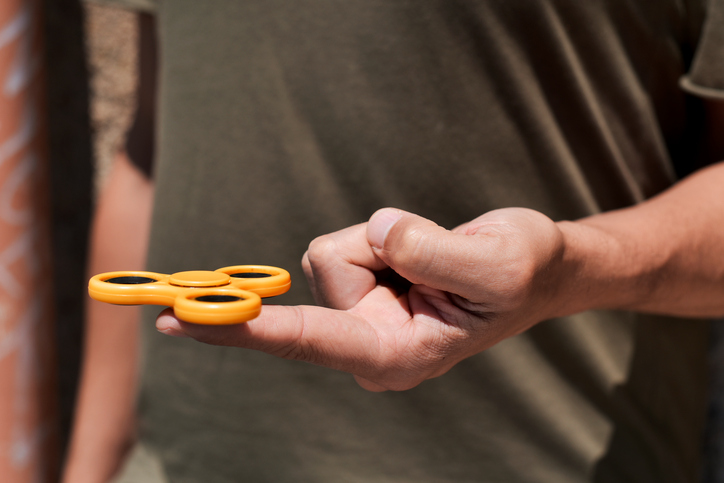 Nothing is safe from porn… not even fidget spinners. If you can think of it then there is probably porn of it, as rule 34 of the internet constantly tells us. Well, Pornhub has noticed that a fidget spinner makes for the perfect item to appear in porn. But why, and how are they being used?
They are everywhere!
Most of us have seen fidget spinners out there. They are small, usually plastic toys that you hold between your thumb and forefinger. Then you spin them. They keep spinning for a hell of a long time, and can keep your hands entertained for hours.
Of course, people have other ideas about ways to keep their hands busy, but doing those things in public is frowned upon. So in come the fidget spinners!
They are pretty controversial devices. Some are on the fence about them, as they are incredibly distracting but can also help with anxiety and ADHD, but others just find them to be a bother.
Some also feel that they are a bit sexy… and so they want to see more of them.
What is fidget spinner porn?
The latest porn trend is fidget spinner porn. The spinning devices seem to be popular on porn sites, such as Pornhub, and they are some of the most searched for things online in the month of May… but what exactly is fidget spinner porn?
For those who would rather not search for it, we have done it for you. A large number of the videos, honestly, seem pretty tame. They are just videos of fidget spinners going, and they get plenty of confused comments such as "why the fuck is this on Pornhub".
Some people, however, have learned to use them a little more creatively. They are teasing their partner's with them by rubbing them against their tits or even their clit through their panties. They want to make them feel good.
Why are they the latest porn trend?
So… why are they becoming so popular in porn videos? Pornhub spotted a trend. They have noticed that, in the month of May, searches for this have been very popular.
In fact, they tell us that fidget spinner searches have made it the "5th most popular search in May", as people cannot stop searching for them. They want to see them used in the bedroom in creative ways. Unsurprisingly, they seem to be more popular with younger generations, as those aged between 18-24 are more likely to search for them.
So what do you think of fidget spinner porn? Is it worth of being the latest porn trend, or is it simply a fad that we will grow bored of? Have you got some better suggestions for using them in the bedroom? Let us know by leaving a comment in the box below. Latest posts by Lara Mills
(see all)