I met Randal one autumn evening in a cosy pub in Surrey, the fire was lit and myself and some friends were huddled in chairs, sampling our many glasses of rose until closing hour drew near.
Randal had a undeniable sense of sensuality about him, he originated from Sri Lanka and there was something magical in those dark brown eyes which was elusive and addictive. We sat side by side drawing closer, as our small talk grew more in-depth and we exchanged ideas about the perfect sexual experience.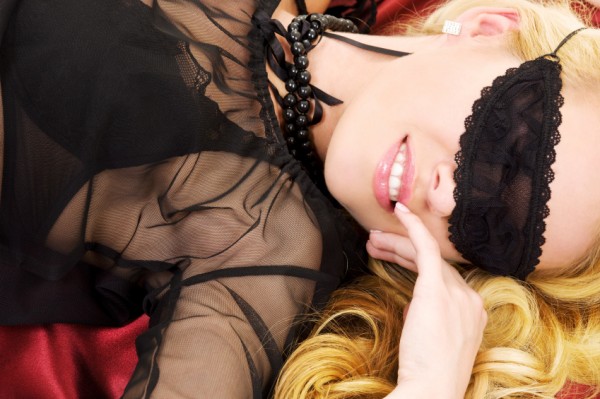 Randal spoke about a special kind of massage experience, where the senses such as sight is lowered in order to heighten senses of touch, smell and taste. It was all too intriguing to resist, we swapped numbers and over the next few days, Randal indulged me in details of his naughty massage. Come Friday, I was so aroused I couldn't wait any longer.
I arrived at Randal's apartment that evening, dressed in a tight lace black dress, which hugged my curves. He had laid out candles and we settled onto seats in his front room, cradling glasses of prosecco and regarding each other with repressed sexual hunger.
After we had finished our bottle of Prosecco, Randal led me into the bedroom. I sat on his bed and he wrapped a black velvet mask around my eyes, my arousal accelerated immediately.
"Am I able to, within reason do anything I think is sexually stimulating to you?" Randal asked, slowly, poignantly. My heart started to beat louder.
"Anything."
Blindfolded
With the mask wrapped around my face, I was pretty much at his mercy but it was a delicious kind of submission.
Randal began to remove my clothes so that I lay in my underwear, a specially chosen silk corset and French knickers. Something touched my lips, it was chocolate. He was feeding me.
"First taste." Randal explained. I tasted the chocolate. It hit my taste buds with ferocity. After I ate, I heard Randal undo his trousers and felt him against my lips, hard and erect. With no sight ability, I took him in my mouth, brushed his penis over my lips and tongue and could hear him moan with pleasure.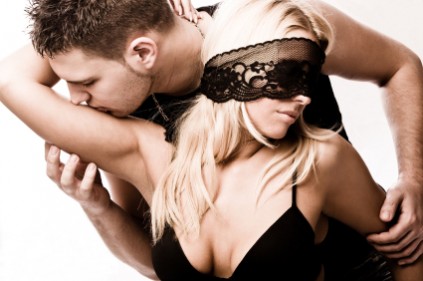 "Now more." I felt a glass against my lips, grazing my teeth, I drunk more prosecco, which burned down my throat mixed with the other tastes in my mouth. Then I could feel his penis again, solid and throbbing brushing my face and throat, he thwacked it against my cheek, which made me more wet against my knickers. He entered my mouth again and pushed himself deeper, so that I took him into my throat. It was highly erotic, between my highs ached for more.
My corset was being unhooked and I felt as it released my breasts, which were met with what felt like a warm drizzle. Then a tongue lapped against them, tasting the warm drizzle and my nipples. Randal bit my nipples and moaned, I was ready to jump on him and give in to the longing for an orgasm, but I contained myself, reluctantly and let him take control.
I could hear cream being squirted and felt a finger enter my mouth, with cream pushed into my mouth, it was startling how aroused it made me, this orgasm was surely going to explode soon.
Blindfolded and Tied Up Sex
Confidently, Randal ripped my knickers off, laying cream all over my pussy he licked it off, bit by bit, causing my clitoris to react with the brushing of his tongue as my pussy contracted and my thighs trembled. He pushed his two fingers into my throat, in and out and then decided to take me.
Pushing my legs back straight, he entered me, slammed against my G-spot, making me steer to an orgasm almost immediately, with my blindfold on, I couldn't see what was happening, but the sensations were heightened and that made it all the more erotic.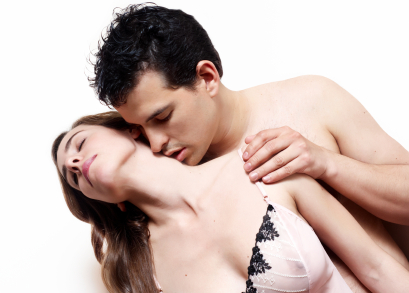 Randal turned me over, arching my back so he could take me doggy style. My favourite.
I felt as he then wrapped a soft rope around my wrists, so they were tied securely behind my back. With that extra restraint, I was transported into a whole other erotic dimension. Randal tugged on my wrists to make sure they were secure then entered me from behind, placing his hands around my waist and pounding me over and over again. He hit my Gspot in just the right place and I came loudly, my pussy contracting him and guiding him to also explode, he came all over my back and then turned my round so he could come in my mouth. It was a perfect end to the most erotic, teasing seduction technique I had ever experienced.
I finally took the blindfold off and we lay, engrossed in our post orgasmic state, grinning.
"Ok, I'm a convert to your massage technique." I agreed after a while.
We made our way to his shower room and after washing we got so turned on by the memories of the seduction before we ended up having sex in his shower room, what an evening.