I was messing around on Twitter last night, as I have a tendency to do if there is next to nothing on TV. I think it is a great place; you can keep up to date with anything from football rumours, to what is going on in Syria. Last night, it was darting legend Eric Bristow who sparked my attention.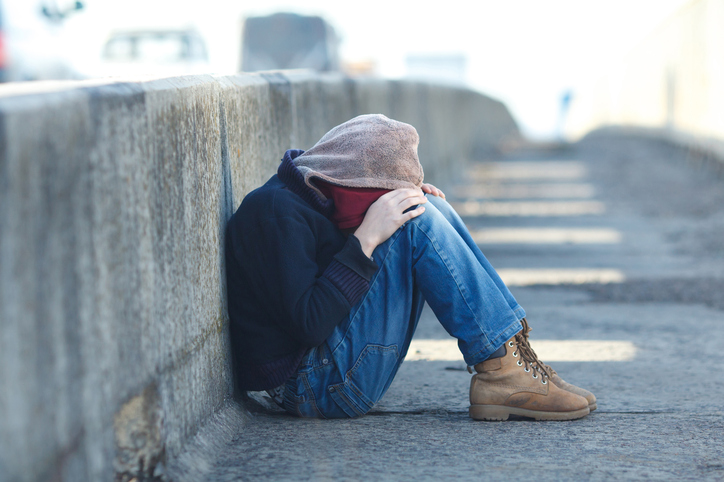 Now anyone who knows Twitter will tell you, there are two reasons an old celebrity will be trending. They are either A) dead or B) they have said something really stupid and offensive. For Bristow, it is certainly the latter.
Shocking
After having a quick look, what he had said even shocked me. He had basically gone and said that the footballers who had been abused by football coaches as children weren't 'real men'. I had to read these Tweets a few times to see if I had missed something, like some sarcasm maybe.
Here is the full timeline of the tweets, some of which have already been deleted.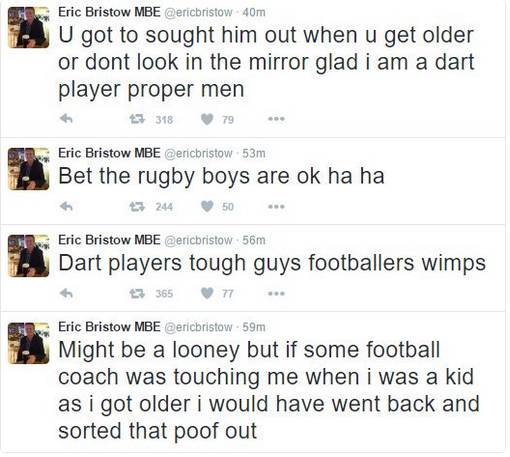 Not good, eh?
Bristow suggested that darts players were "tough guys" and footballers, on the other hand, were "wimps".
He added the victims should not be able to look themselves in the mirror for not "getting their own back" on their abusers when they grew up.
In addition to his comments on sex abuse victims, Bristow caused anger by linking paedophiles with homosexuals in a tweet that read: "Might be a loony but if some football coach was touching me when I was a kid, as I got older I would have went back and sorted that poof out."
Words fail me. However, they did not fail Duncan Craig, the chief executive of the charity Survivors Manchester, who was unsurprisingly unimpressed.
Craig said of Bristow: "His comments are absolutely appalling.
"Bristow is ill-educated but that's not a crime. However, calling someone derogatory homosexual terms is a hate crime in my view.
"The reason many men don't speak out is because they feel less of man, feel judged, feel ashamed. Bristow is perpetuating those myths to his 93,000 followers – that's why I'm taking such a strong stance."
Bristow Given The Boot
Well, the backlash hasn't stopped there. Bristow has since lost his job working with Sky sports on their darts coverage.
He was a contributor to our darts coverage in the past but we will not be using him in the future," said a Sky spokesman.
One suspects that that won't be the last endorsement he loses.
My girlfriend put it brilliantly earlier. She asked 'what was he thinking? Did he think that his 93,000 followers would agree that real men don't get abused? Seriously, he wouldn't have tweeted it if he thought it was going to get a bad response.
I am not usually one of those who get offended over things on the internet, but what Bristow said was terrible. It is that kind of attitude that stops male victims of sex attacks coming forward. These guys who have spoken of their abuse are brave beyond belief…they don't need dinosaurs like Eric Bristow mocking them.
Everyone here at Escort Scotland offers their thoughts and supporters to the footballers who have come forward, as well as anyone else who has been the scourge of sexual violence.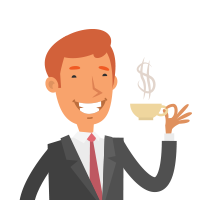 Latest posts by Martin Ward
(see all)