The rules regarding giving blood are strict, but they meant that sex workers were unable to donate. Under the NHS Blood and Transplant services, sex workers were told that they "must never give blood or platelets" if they had ever been paid for sex. In other words, blood donation just wasn't allowed… even if you left the trade twenty years ago and have had a clean bill of health since.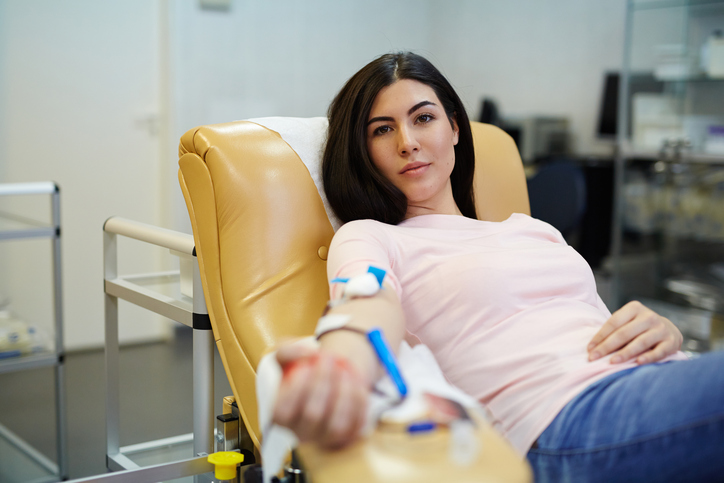 But things are about to change! The government announced on Sunday that they have a number of changes to make to blood donation in Scotland and England. It's a huge shake up of the rules, meaning that sex workers will finally be able to give blood if they meet certain criteria.
These changes to the rules also mean that gay men will now be able to donate more regularly if they wish to, so here's everything you need to know about these changes.
Relaxing the rules for sex workers
Previously, the NHS Blood and Transplant services website had sex workers firmly in the "you must never give blood" category, stating that anyone who has "ever received money or drugs for sex" cannot donate. Yes, even those sex workers who had no STIs or STDs years after leaving this line of work.
We can understand why the rules around blood donation need to be strict. As the Medical and Research Director, Mr Gail Miflin, stated: "We have one of the safest blood supplies in the world." And they want to keep it that way.
However, the ban on sex workers donating blood simply encourages the stigma, when we know that sex workers are very concerned with their own health. In fact, the NHS have found as much in their own research, stating that "98% of sex workers we asked rating their sexual health as very important, 76% having a sexual health check up every three months, and 98% knowing their HIV status".
And so they have come to the decision to relax the rules. Sex workers will now be able to give blood three months after their last sexual activity. So why have the rules changed?
Advances in testing
The reason that the rules are being relaxed is because of the huge advances in testing for blood-borne viruses, such as heptatis B and C as well as HIV.
The Advisory Committee on the Safety of Blood, Tissues and Organs advises UK health departments, and they felt that the vast improvements in these tests to detect the presence of a virus now make it easier to check that donate blood is safe.
As a result of this, they advised NHS Blood and Transplant that three months without sex would be sufficient in order to accept donations from commercial sex workers… as well as gay men.
The new changes mean that gay men will now be able to donate more regularly. Previously, they would have to go twelve months without sex in order to give blood, even if protection was used. Now it is just three months. It is the same for those with high-risk partner, and you can read the statement on their website or by taking a look at the graphic below:
A step in the right direction
These changes are coming soon. In fact, we will see them in November of this year in Scotland, while England has to wait until early next year.
Either way it is a big step in the right direction. It means that sex workers can now finally give blood, instead of being permanently unable to. It also means that gay men will be able to donate more frequently, waiting just three months instead of a whole year.
How do you feel about this? Do you think that this is a step in the right direction? Would you be encouraged to take part in blood donation more regularly as a result of these changes? Let us know what you think by leaving a comment in the box below and joining in the discussion. Latest posts by Lara Mills
(see all)