If you have trouble spicing things up in the bedroom without delving into the world of BDSM, you might want to take a look at mirror sex. Having sex in front of a mirror might just be the perfect way to make sex more exciting for you and your partner, and you'll already have everything you need in your bedroom.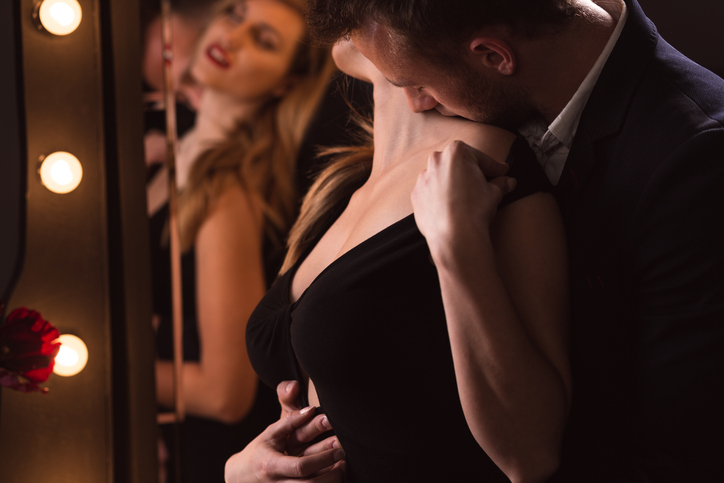 The difficulty with it is finding the right positions. Not all positions work with mirror sex, as a lot of it depends on the placement of the mirror. So why not try one of these six positions which will make for amazing mirror sex?
1. Oral sex
You don't have to dive straight in with full on sex to enjoy having sex in front of a mirror. Oral sex works just as well, especially if you have a free standing mirror and want to enjoy watching your partner's mouth at work while you lie back.
It's excellent if you are the one giving oral sex as well, as you can see how you look in the mirror. It'll feel kinky for you both and you might find that you amp up your actions a little to give sex more of a porn star vibe.
2. Missionary
One of the best things about mirror sex is watching your partner's reactions as you fuck. Missionary sex is great for this, as you can position yourselves so that your partner's head is hanging over the edge of the bed. It gives them a great view of the action as you fuck.
Another good thing about this position is that it'll change the angle of penetration slightly. By hanging her head over the edge of the bed, she'll be arching her back a little. This can create the perfect angle for sex, as your cock will rub at her g-spot.
3. Doggy style
The obvious position when talking about mirror sex is doggy style. Depending on where your mirror is placed, you will both be able to watch what is happening. One reason many don't like doggy is because they cannot see their partner's face. With a mirror, now you can!
You'll want to go harder and faster to see their reactions. You'll want to try and make them moan louder and gasp in pleasure as you fuck them. It is extremely tempting and fun to do, and one of our favourite positions when having sex in front of a mirror.
4. Girl on top
If you happen to have a mirror hanging above your headboard, the girl on top position is perfect. Your partner gets the chance to watch themselves in action, and they'll find that it is a huge turn on to see how they move during sex.
It will also be fantastic for you as you will notice the difference in them as you have sex. You can put your hands all over them and they can see what you are doing from a new perspective, adding that little bit of spice to sex that you were looking for.
5. Reverse cowgirl
For many they love the angle that reverse cowgirl provides for sex. However, it is not the best if you want to watch your partner's face. Like doggy, it has its limitations. With a mirror, you can change all of that and watch their face as you fuck.
If you turn so that you are sideways on to the mirror, you'll be able to see everything. You can watch both your and your partner's reactions during sex. It'll make you both go harder and faster, leading to an intense fuck.
6. Standing sex
If you want to step away from the bed then you'll find that standing sex is perfect for mirror sex. It is great for those who want to see their own reactions during sex, as you can look over your partner's shoulder as you fuck. However, there is another reason it is incredibly appealing.
For those of you keen to experiment with temperature play, you can try pressing your partner's back against the mirror. Mirrors tend to be cold, and this cool surface, combined with your hot bodies, is going to make things even better. It really does make a difference, so try it for yourself.
Why we love mirror sex
Mirror sex is great, and no, you don't have to be like Patrick Bateman in American Psycho. You don't have to fuck and flex at the same time. Instead you can use it to see your partner's face in certain positions, or to see how they react when you touch them in certain ways.
It will be a huge turn on for you both, but which position is your favourite? Let us know by leaving a comment in the box below. Is there one position you'll use more than others? Share it with us! Latest posts by Lara Mills
(see all)