So you've managed to land yourself a threesome? This is often referred to in the sexual encounter dimension as the holy grail. To really enjoy the moment, here are some very tasty positions and ideas to help your night live up to all its expectations!
Cowboy Pose
Beginning with a little foreplay, a good first position is if the lucky man lies down on the bed, woman number one poses by sitting on his face, facing away, so he can pleasure her with oral sex, while woman number two is between his thighs, giving him oral sex pleasure. The position is stimulating because you are pleasuring her, while your other lady is pleasuring you, an explosion of sensations. The woman can come into play and begin to ride you, while the other woman is still enjoying her oral sex, a great threesome position. The other benefit is you can have an amazing view of her butt and the two women can lean in to caress each other and kiss each other, adding to your enjoyment, and theirs!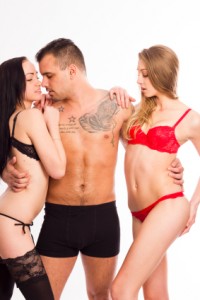 One, Twice, Three Times a Lady
During foreplay, a blow job is one of the most erotic acts that can be performed in the bedroom, in fact it's a bedroom necessity, so imagine two women giving you a blowjob? Ask the two women to suck one at a time, or ask one to suck your testicles while the other takes you in her mouth. This is incredibly erotic and stimulating, but we are just getting started!
G-Spot Attack
While the first woman is on all fours, you can slip yourself inside and give her doggy-style sex, deeply penetrating her G-spot. Woman number two can lie beneath the first women, receiving cunnilingus. This will excite you, excite them and give you an amazing view of the action while they pleasure each other. Stroke and pleasure the second woman while penetrating the first one, this will really ignite the fire.
Double Dipping
Line the two women up side-by-side in doggy style positions, this is extremely invigorating for the male and women, the two woman can kiss and caress each other while they wait for their turn to be penetrated, one by one, the lucky male can ride his woman, either for long periods of time, or switching whenever he feels like it. This position is guaranteed to make the man feel like a king.
Ready To Blow Your Load?
When the man is ready to come, there are a few very tasty ideas. First one is coming over both of the women's faces after sex or in their mouths if they allow, this is more of a sexual thrill because the whole idea is having two women, so why just come into or onto one? The other idea is to come after double dipping, by coming over both exposed buttocks, this is incredibly empowering and erotic.
Threesomes can be intoxicating, stimulating and downright naughty but there is also some threesome etiquette to consider, if one of the ladies is your girlfriend and you have both finished the action, allow the lady who has had the 'cameo' appearance to leave as soon as possible, removing awkwardness and messiness! Make sure the lady who is the cameo has the least attention, make your main woman feel like the queen in the situation, this way she will more than often want to do it again, which means win-win situation for you!
A threesome is one of the experiences a number of escorts offer. Take a look at our gorgeous and playful Aberdeen escorts and see which ones offer this experience as part of their services.
Maybe they can help your fantasies become reality?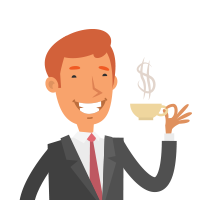 Latest posts by Martin Ward
(see all)