Just how many sex positions there are isn't known. There are so many different ones with variations for all kinds of situations that counting them all seems impossible. However, even then it can be hard to find the perfect position for sex, especially if you are on of the tall men out there.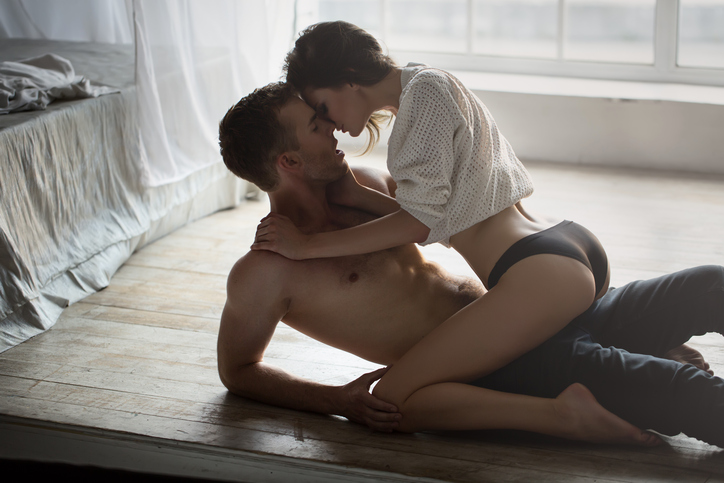 Tall men find it hard because the height difference means certain positions are more of a challenge. You might not be able to enjoy them the same because you'll have to crouch more, making the position painful rather than pleasurable. Look no further! Here on the Escort Scotland blog I have put together five fantastic sex positions perfect for tall men.
1. Woman on top
People might say that size doesn't matter when you're lying down, but it does. It can create a number of difficulties, especially if you want to look at your partner's face as you fuck. Traditional positions like missionary doesn't work, unless you want your partner to stare at your chest the entire time.
This is why the woman on top position is perfect. They simply climb on your cock and go to town. There are a number of variations to it as well, so you could have them sitting up straight or you could adjust your own position to meet them, much like the gif below.
Okay, so kissing in this position might be harder, but this position certainly makes sex a lot easier! You can really build up a rhythm in it, especially if you raise your hips to meet theirs. You can also put your hands to good use, making your partner feel good as you fuck.
2. Reverse cowgirl
The reverse cowgirl position is one of my favourites, especially when I'm dating tall men. It not only gives me more control of what is happening, but it is one of the positions where size doesn't make a difference. It will still feel good.
The tall man can lie on their back on the bed, while their partner mounts them, facing their feet. It also provides g-spot stimulation, meaning your partner is more likely to orgasm like this.
Best of all you can easily adjust the angle. Your partner can either lean forward a little, closer to your legs, or lean back. Another big plus is that you don't have to thrust. You can simply grind against your partner. Perfect for slower and more sensual sex with a kinky twist.
3. Spooning
Sometimes, we don't feel like we have the energy for intense sex. The spooning position is ideal for that. Not only is it great first thing in the morning when you haven't had your morning coffee, but it also works well for couples with a height difference.
You lie on your side with your partner also on their side, facing away for you. You will then slip inside of them, thrusting slowly into them. This position gives amazing g-spot stimulation while also allowing you to reach around and stroke your partner.
Not feeling slow and steady? You don't have to. You could easily build up a fast rhythm in this position. It all depends on what you and your partner want, so talk to them and figure out whether a slow and sensual or hard and fast fuck is on the cards.
4. Tabletop doggy
Doggy style is one of our favourite sex positions. We absolutely cannot get enough of it, though whenever I've been with tall men, this position is a challenging one to do. Since I'm usually nearly a foot shorter than them, they have to stoop a little to slip inside of men. Not great.
So cheat. Have doggy style using a table. A tabletop or a counter is perfect for it, depending on the height. The receiving partner can bend of it, using the surface to lift themselves up a little. You can then slip into them from behind.
Want to really spice things up? Grab your partner's legs and lift them. Wrap them as best you can around your waist and go to town. It will feel amazing and be a refreshing change from some of the traditional positions we often try.
5. The bridge
If you've ever tried your hand at yoga then you will probably already be familiar with this position. In yoga, the bridge is where you lie on your back with your legs bent and your feet firmly planted on the floor. You then push your hips up and hold the position to strengthen your core.
It is also a sex position. Not only that, but it works well for any couple with a height difference. You can get your partner to raise their hips while you thrust into them, making it easier for you to fuck them.
Not only that, but it gives great leverage. If you want deeper penetration, this position gives you the chance to do that. It also pretty much eradicates any height differences, as your partner will be the one responsible for lifting up. You could also help them by supporting their hips.
Tall men sex struggles
Height differences can cause a number of problems during sex. As a short woman, I've noticed that a number of sex positions I've tried with tall men just haven't worked. I've had to adjust and work around them in different ways.
Hopefully the five positions above will help you out. If you are a tall man with a favourite you think we should know about, let us know! Leave a comment in the box and tell us which position works best for you. Latest posts by Lara Mills
(see all)