Public sex is a phenomenon that has been on the tip of many people's tongues – ever since the cave man took his woman in the bushes instead of his cave one day! In other words – it's a common fantasy that many admit to indulging in once and a while. Listen to our confessionals from 5 different couples, having sex outside has never been so hot!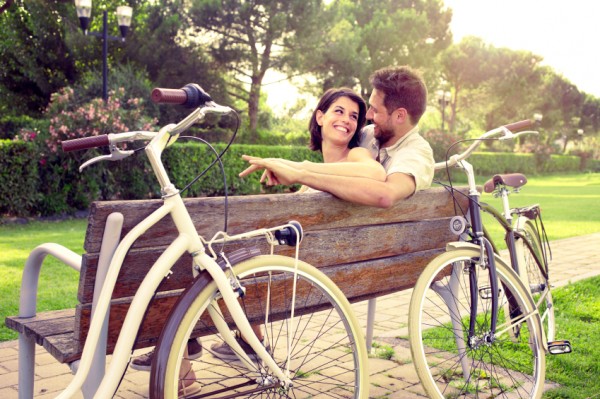 Icy Sex In The Bar
"I was dating a guy, with whom I had a massive chemistry with." Writes Alexandra. "We met at a local bar, which was cosy and lit everywhere with candles. We sat in a booth in the corner of the bar and began to order huge cocktails, which were delicious. Of course, we were flirting furiously and had eyes for each other, completely ignoring the fact there was a packed dance floor in front of us. All of a sudden Jacob took some ice in his mouth and then slipped it into my bra. The ice hit my nipple with a jolt. It made me crazy horny. Then he proceeded to place one more on my other nipple and kissed me, holding the ice in his mouth while kissing me. It was electric. The icing on the cake was when he placed an ice cube into my trousers and let it melt onto my clitoris. We were too horny to sit anymore we raced back to the car and kissed heavily before rushing to the bedroom for the more passionate sex we had ever had in our life."
Sex In The Car
"I met Jonathan in a club in London." Writes Julia. "We began talking over mojitos and started to chase them with some tequila shots, suffice to say we were more than a little tipsy and began to dance sexily with each other, grinding down and up, pushing ourselves into each other. We were really on fire. I hadn't had this physical connection with somebody for a very long time! We left the club, kissing passionately in the alleyway and down the street, unable to keep our hands off each other. Then, we bundled into my car. I wasn't able to drive but we didn't care, we just kept kissing in the car. He put his hand under my skirt and we jumped into the back of the car. I pulled my skirt up, undid his flies and had sex there and then doggy style in the back of the car. It was deliciously sexy and naughty! Afterwards, the windows were steamed up like the sex scene in Titanic."
Sex In The Changing Room
"My girlfriend and I had a trip booked for the summer to Cuba." Writes Simeon. "We needed some new swimwear, so we started shopping in a few stores. In one of them, my girlfriend wanted to try on some bikinis. There was no attendant so she beckoned me in to see the bikinis on her. I came in and thought she looked stunning so we started kissing and I tore off the bikini, we started having sex there and then in the changing room up against the mirror. It was the single most risky time I have ever had sex, massively satisfying and led to the biggest orgasm of my life."
Sex In The Park
"My boyfriend and I were visiting my parents in Devon one year." Stacey writes. "It was pretty boring in Devon so my boyfriend and I decided to go for a hike in the woods nearby, we started to race each other and get competitive, which led to him grabbing me and wrestling me in the middle of the field. Sweaty and hearts racing we began to get really horny, so we started to kiss. We both knew what we wanted, so we grabbed each other and found a little dip in the ground, near some bushes and began to tear each other´s clothes off. We lay missionary style and started to have sex, stifling giggles and loud moans. The outside environment made us more exhilarated. The funniest thing was just as we were about to come, an old man walking a dog spotted us through the gap in the trees and looked completely horrified! But for us it made it all the more fun!"
Sex In The Lift
"My girlfriend and I had been on a mission to spice up our sex life and had designated a whole two weeks dedicated to taking each other by surprise sexually. We could do anything we wanted to do in those two weeks and then name of the game was spontaneity. We were leaving a restaurant and I was watching my girlfriend totter about in her tight white skinny jeans and heels, she looked gorgeous and I wanted her. We walked to the carpark and got into the lift, it was dark and the car park was almost abandoned. As soon as the door closed, I decided to activate my rights of being sexy and spontaneous and pulled her trousers down. She protested but couldn't resist the naughtiness and let me have sex with her there doggystyle in the lift, every time we reached a floor our hearts would thud harder wondering if somebody was going to walk in. We would keep going up and down in the lift until I came inside her, pushing her up against the wall. In all of our sexual experiences – and there has been many, this is definitely a more than memorable one."
Sex outside is a naughty and exhilarating experience to try with a significant other, it can reignite your passion and give you prolonged, filthy memories! Head over to the Escort Scotland forum to get some ideas.