Most of us can't go anywhere without our smartphone. Even if we are just nipping to the shop for some milk, we'll take our phone with us. Hell, most of us can't even manage to go to the toilet without it! We'd rather charge it up first so that we can use it instead of having to resort to reading the back of shampoo bottles.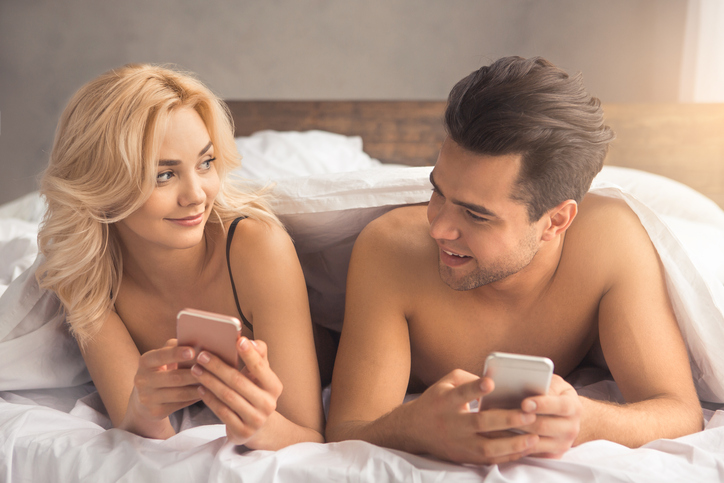 You know who you are, and we've all done it at some point. The problem is that we are becoming so attached to our phones that we can't simply switch off. Even in the bedroom, we find that many people have their phones with them. Why?
Phones and sex
I can't tell you how many times I've been in a shop and heard the familiar 'ping' of a text message being received. I also can't tell you how many times myself and others around have pulled out their smartphone to see if it was them, only to discover it wasn't.
On public transport we'll be on our phones, either listening to music or catching up on the latest news and social media. We just can't put them down, so it shouldn't be surprising just how many people check them during sex. I'll admit that there have been times when I've heard my ringtone in the middle of sex, but have I ever gone to check it out? Nope.
It seems, however, that a large number of people do. A recent survey of 1,000 people found that 10% had done it. Worst of all, those who admitted to doing it didn't make things better for themselves. 43% said that they did it repeatedly. What is so important that it can't wait?
The survey went on to discover that anyone aged 18-34 was twice as likely to do it when compared to the 35-51 year olds. It even has a name – phubbing. Basically phone snubbing. A study back in 2015 even found that around 46% of those in relationships have experienced it.
I guess I should be grateful that I've never had to deal with it, but I imagine I'd be pretty pissed off if I did. How do you think you'd feel if your partner looked at their mobile while having sex with you?
1. Check out new positions
There is nothing wrong with you and your partner taking your phones into the bedroom if you intend to use them to spice up sex. The big problem comes when you wonder just how you are going to spice things up. There are so many different things you can do, so why not take advantage of your internet connection?
You could use it to look up new sex positions. There are hundreds of websites online with diagrams showing you how to try each position, but you could also choose to download an app instead.
The apps are great, as many of them have different ways for you to search. You can sort the positions by difficulty to get into and who finds it the most pleasure. It is the perfect way for you and your partner to spice things up!
2. Check your sexual compatibility
Something that many couples find difficulty talking about is their fetishes and interests. It can be difficult to start up that conversation about it, which is why using your phones is a great idea. Again, it'll require you downloading an app, but there are some great ones to try.
One of the most popular is Kindu, which I've tried out before. It is a simple idea which works really well for those struggling to open up. You'll pair with your partner and then answer some simple questions about the things that you'd like to try. If there is anything you both match on, you'll be able to see it. This helps you start talking about your fantasies.
You might decide that you want things to be a little more competitive between you and your partner. If so, you should try Desire. It is a game designed for you and your partner to challenge each other to dares. They can be tame or a little more challenging, depending on your preferences. You'll gain points for every successful dare you complete, and with over 40,000 to choose from it is sure to keep you entertained!
3. Make a sexy movie
For some people, there is nothing more thrilling than watching themselves have sex. They might use a mirror to do this, but some people choose to instead pull out the camera and record it for future reference.
If you have a habit of taking your phone into the bedroom with you, this is the perfect time to use it. You and your partner could make your very own amateur porn movie. Simply hit record and off you go!
A word of caution – make sure you turn off cloud sharing. Sure, you might like to have a back-up on your video, but who else has access to your cloud? Keep it separate to ensure that nobody sees anything that you don't want them to.
4. Connect to a sex toy
Ah technology. Is there nothing it can't do? Not only can you order your favourite takeaway in the click of a button, or book a holiday, but you can also turn your phone into a sex toy. Yes, really.
There are a number of sex toys you can get that will connect to your smartphone. They work by giving you control over how strong the vibrations are. With a slide of your finger you can increase the intensity of the vibrations, making it even more pleasurable for you and your partner.
One of the reasons these toys, like the We-Vibe shown in the video below, are so popular is because of long-distance relationships. As long as you have an internet connection, you can play. Of course, you'll find it more thrilling if you are in the room with your partner while it happens.
Do you check your phone?
So there are a few different ways you can use your phone during sex. It'll certainly give you a reason to take it into the bedroom with you. But would you still be tempted to check it in the heat of the moment?
Have you ever checked your smartphone during sex? Do you have a policy of turning it off so you can get it on? Let me know what you think. You can leave a comment in the box below. Latest posts by Lara Mills
(see all)