A threesome is a dream for many people. It is a fantasy we would love to explore, and so finding a willing partner feels like we've hit the jackpot. We can't wait to get started. We'll start discussing potentials to join us for some fun, and then comes to the scary part – the threesome itself.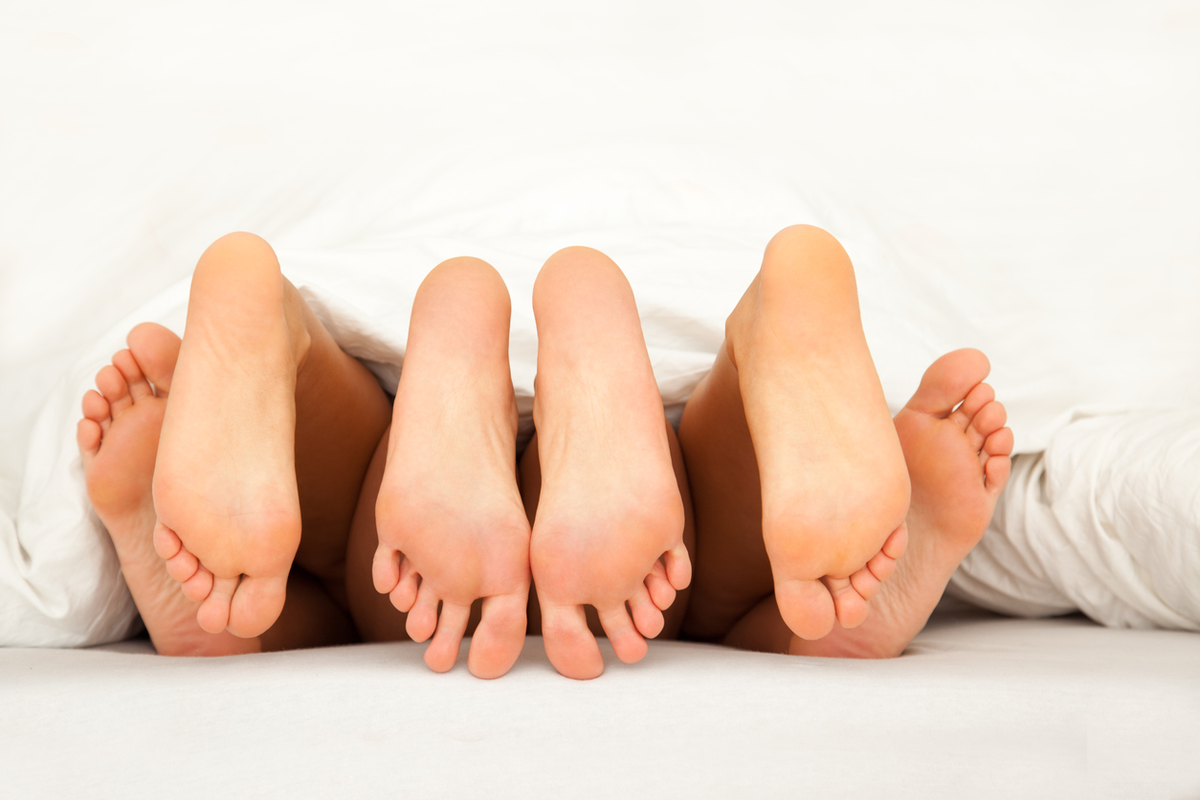 There are often so many different things to think about during a threesome that we might miss some of the obvious things. The key to a good threesome is to keep everyone involved, and the best way to do that is to find the best MFF threesome sex positions.
Not sure which are the perfect threesome sex positions? We can help. We've put together four of the best positions to keep everyone entertained during your hot and steamy MFF threesome.
1. The daisy chain
In your youth you might have taken the time to sit on the grass in the park, picking daisies to form a nice chain or circle of them. Well, this first position draws on that. It gives you all the chance to test out your oral sex skills… as well as your determination to stay on task.
The easiest way to get into this position is by all lying on your sides. You can then shuffle forward until you are in a comfortable position. Make sure to lift one leg up to give more access.
Then you'll get going. You get to give someone else oral while another goes down on you… and someone else is going down on them. It'll be fun because you'll hear your partners starting to moan and groan when they get closer to orgasm… and this will make you want to cum.
2. Enjoy the show
You might not like the position above because you can't really see what is going on. Your head will be buried in someone's crotch and your tongue will be working hard, which means you might miss the show. This is where this position is perfect.
One of the ladies will get into the doggy style position while you fuck her. The one in doggy style will then go down on the other woman. It will look fantastic (hence the name) and be a lot of fun.
Best of all you can switch! Your partner might decide that they want to get their pussy eaten instead and watch while you fuck someone else as they eat their cunt. It will make for some great memories, especially as you make lots of eye contact during this position.
3. The Eiffel Tower
Sometimes referred to as the double cowgirl, this position is fantastic for the man. All you need to do is lie back. Sounds simple, right? Well, you are going to be putting your mouth to work, so don't get too relaxed.
One of the women will mount your face so that you can eat her out. While your mouth is occupied, the other will mount your cock and ride you. The women might also lean together to kiss and touch each other, which is why it is often called the Eiffel Tower position.
It's perfect if the two women involved are curious enough to play but not go as far as eating each other out. They can watch each other receive pleasure and then touch each other, if they want to. If they don't that's fine, as you have them both covered anyway! This is why it is a firm favourite among the best threesome sex positions you can try.
4. 69 + 1
69 is a firm favourite for those who want to give oral sex while receiving. If you want to make it hotter? Simply add cock. For this position the two women should get into the 69 position and start going at it.
When they are ready, move behind whoever is on their hands and knees. You should be able to easily slip your rock hard cock into their tight cunt while their clit is being licked. If they are into anal then this position is great for that too, just make sure you lube up first.
For the person in doggy style it will be extra intense, as they have a tongue on their clit and a cock in their pussy. If one of the ladies has trouble getting to orgasm this might be the perfect way to help them. Don't forget, the best thing about these threesome sex positions is that you can change the order a little to make it more entertaining for all!
The best MFF threesome sex positions
These are what we consider to be four of the best MFF threesome sex positions out there. However, you might not agree. You might think that there are some obvious ones we have missed and want to tell us about it.
Use the comments below to join in the discussion! You can even share your thoughts on MFF threesomes in the poll below. Eager to get the right tips to make your experience amazing? Martin's got you covered, so go and have fun! Latest posts by Lara Mills
(see all)