How many of you have been sitting on the sofa, watching Netflix, and said to yourself "I'll just watch one more episode before bed"? Suddenly it is two o'clock in the morning and you have to get up for work in four hours, meaning that you won't get enough sleep to properly function throughout the day. Coffee becomes your bed friend.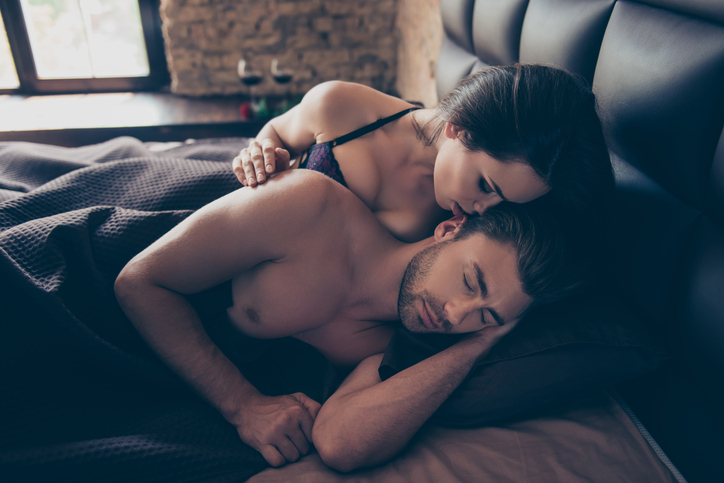 We don't spend as much time in bed as we would like to. Whether you are in there for fun with your partner or you are just trying to get a little more sleep at night, we aren't in there enough. It turns out that the time you spend in bed can impact your sex life. If you want better sex, you need to spend more time sleeping!
How much sleep do we need?
According to The Sleep Foundation, adults between the ages of 18 and 64 need between 7-9 hours each night. Getting enough each night will help to ensure that you are awake, alert, and productive throughout the day.
Most of you will have had those mornings where you've woken up and found that you just can't function. You want to stay in bed for longer and have to force yourself to leave the duvet. You might take a cold shower in an attempt to wake yourself up, or you might simply drink the strongest coffee you can make to fill up on caffeine.
However, coffee and cold showers aren't a good substitute. It might be that you haven't gotten yourself into a routine at night, going to bed at different times because you stayed up to watch TV or surf the net. It's important to get into a routine because then you'll find it easier to drift off, but it also ensure you are getting the rest you need.
Why it is important to sex
Sex can be incredibly dull when you don't have the energy to actively participate. Many people will try to prepare themselves when they know that they will be having sex, going to bed at a reasonable time so that they can keep up with their partner. The amount of time you spend sleeping is important for that… but studies have shown that getting enough each night can actually improve your sex life!
How? Well, there have been numerous studies throughout the years to suggest that not getting enough rest can actually decrease your testosterone levels, affecting your sex drive. Not only that, but those with chronic sleeping conditions might find that they are hit with erectile dysfunction.
One study from The University of Chicago found that just one week of poor sleep could decrease your levels of testosterone by around 10-15%. Low testosterone can lead to a decline in your sex drive, hence why it is a good idea to get to bed at a reasonable hour.
Struggling with sleeping?
It can be difficult to get enough hours kip each night, especially with so much technology around. The amount of times I tell myself I'm going to get to bed at a decent hour and either stay up watching Netflix, playing games, or getting into bed only to pull out my phone and waste away the hours is too many to count.
What can you do if you are struggling to drift off? Regular exercise can help, as this tires your body out and makes it easier to drift off. Sticking to a sleep schedule is also useful, as your body will get into the habit of going to sleep and waking up at a similar time.
You should also try to avoid technology just before bed, and minimise the number of electronics on in your room. Why not try reading a book instead of reading for your phone, or maybe even doing some meditation? It can really make the difference. Found that you are still struggling? You may want to speak to your doctor and see how they can help.
The balance between sleep and sex
What is really interesting is that a lack of sex can also make it difficult to drift off at night. Sex expert Ian Kerner states that not getting enough can cause irritability and sleeplessness, as well as leaving you more stressed.
So you need to figure out where your balance is. How much sleep and sex do you need? Once you've figured that you it should then be easy enough for you to make sure that you are getting enough of both of them.
Have you noticed that sleeping enough each night makes your sex life better? What do you do if you are struggling to drift off at night? Let us know your top tips in the comment box below. Latest posts by Lara Mills
(see all)