Having an affair can be a tricky experience. You are spending time with someone who in reality you shouldn't be spending that much time with. Those wanting a successful affair understandable don't want to get caught, believe it or not.
It is easier when you are in the privacy of your own (or their) home, but when you are out and about it can be a nightmare. There are always prying eyes, and if one of those sets of eyes recognise, that really could hit the nuclear button.
A Novel Idea
Well a Covent Garden restaurant has come up with a novel solution. They have blatantly put up a sign, offering a private dining area for those having an affair!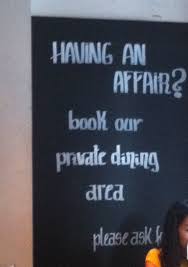 It may be morally questionable, but you have to admit that it is a bloody useful idea. Too many times those of us who have had affairs have been caught in compromising situations on nights out. Having to explain who your evenings partner is, is never really a fun experience. In fact it is downright painful.
Add into the mix that if the person your are doing your explaining to thinks you are lying, then your partner could be finding out about your philandering very soon indeed.
In short, being out with your affair partner can be very, very dangerous
Bringing it to Scotland?
This is why having a restaurant that caters for those who like to live on the edge a little is probably a good idea. I'm not sure about the morality, but then again, you have probably left your morality at the front door the moment you starting having the affair!
I would actually like to see this idea make it's way up to Scotland. Can you imagine how much easier it would be for our married clients to take an Aberdeen escort on a dinner date?
I think this really has legs! Get it done Aberdeen entrepreneurs!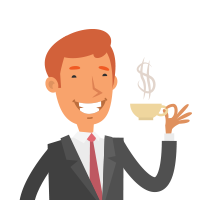 Martin Ward is a well respected editor and writer with over five years experience in the adult industry. After stints in the Escort Advertising call centre and on the escort forum, he moved into the site editor position around three years ago.

Since then, he has specialised in articles on the battle for equal rights for sex workers, sexual health, as well as bringing the readers fun news from around the world. He also has a major interest in LGBT rights, and is an active campaigner in this field.

When he isn't fighting the good fight, he enjoys spending time with his girlfriend, and young daughter. He also enjoys reading and taking long walks.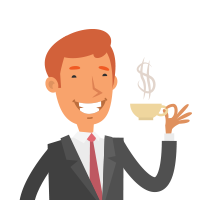 Latest posts by Martin Ward (see all)