Porn likes to exaggerate what sex is really like. Every cock is bigger and each erection lasts longer. Every woman has a slimmer figure with bigger boobs. Every man is a stud. Sex easily lasts for half an hour with no sign of slowing down, and every person receiving a pizza delivery conveniently forgets their 9 inch Hawaiian in favour of the delivery man.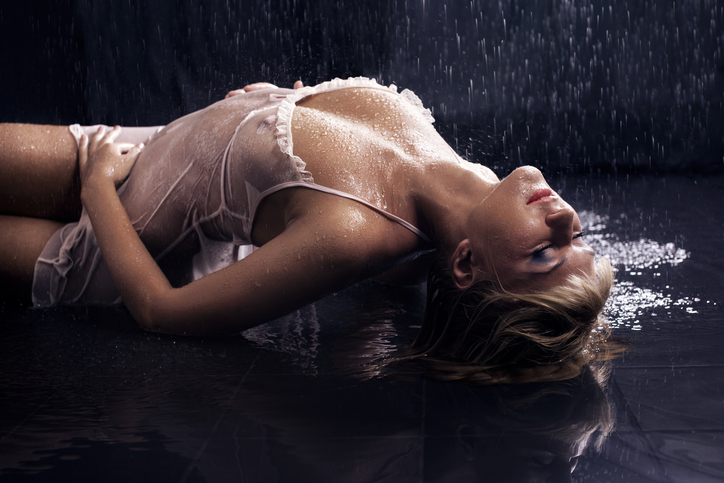 A common thing that we see in porn is squirting. According to porn almost every single woman can and will squirt. All it takes is a good fucking and some fast fingers on her clit before you see that clear liquid gushing out of her cunt in torrents. We know that porn is exaggerated… but how do you actually make a woman squirt?
Step one: relax
The key to any good orgasm is to get her to relax first. If she's tense after a tough week at work, she isn't going to reach her orgasm as easily. You have to help her relax first, which means running her a hot bath or giving her a long, slow, and sensual massage which can turn erotic.
At first though, stick to relaxing. When she is relaxed enough you can then start with slow and gently touches of her sensitive areas. A hand slowly running up her thigh. A caress of her breast. A kiss of the neck. These will work to get her ready for your fingers, which is what comes next.
Step two: locate the G-spot
Ahh yes, the mysterious g-spot. Many believe that it is a myth, something invented by those who want to make others feel useless when they can't make a woman cum. But it does exist, and in order to get her to squirt, you need to locate it. How? Follow these instructions.
When you slip your fingers inside of her, turn them so that your hand is facing upwards. Roughly two or three inches inside of her you'll find a spongey area that feels a little rougher than the surrounding area, and it is a little swollen. This is the g-spot. Congratulations! You found it! …now what?
Step three: the right stimulation
You've found the g-spot! We wish that getting her to squirt would be as easy as just tickle it a little and waiting to see what happens, but this isn't the case. Instead you are going to need to apply more pressure than that, and you'll find that your other hand will come in useful here.
Place your free hand on her pubic bone flat, and keep the pressure on. This will help you for the next part. With your fingers on her g-spot, you will need to thrust your hand up and down quickly. You will have to pound her with your fingers to get a good reaction.
It will feel fantastic for her, but it might take some time for her to squirt. Intensity and perseverance pay off here, so if you find you are getting tired you might have to skip and try something else.
Step four: try again
Even if you do manage to keep going until she has an orgasm it might not be a squirting orgasm. It might feel good, but getting her to squirt can really be tough. Not everyone is capable of it, and many believe that there is no such thing as a squirt.
The key to getting a woman to have a squirting orgasm is to keep trying. It will take a lot of practice. As they say: if at first you don't succeed, try and try again. Even if you don't make her have the kind of drenching orgasm you were hoping for, it'll still feel amazing!
Have you made a woman squirt?
Have you ever managed to make a woman have a squirting orgasm? Do you believe it is possible? Perhaps you have some sex tips you'd like to share?
Tell us all about it by leaving a comment in the box below. You might even find some other amazing tips you hadn't thought about there, so take a look and join in the discussion! Latest posts by Lara Mills
(see all)