Christmas is almost upon us. It's the most wonderful time of the year, but you might find that you are having a hard time getting into the spirit of the season. You may still have presents to buy and wrap. Perhaps you simply aren't looking forward to spending time with family over the holidays.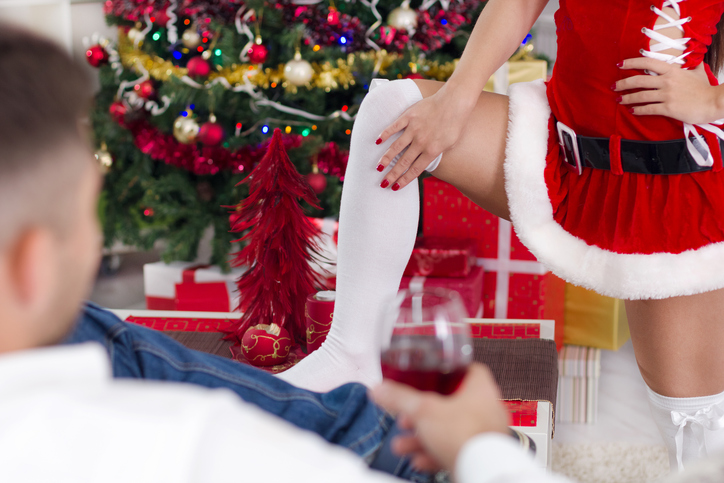 The season should be sexier, which is why here on Escort Scotland we have put together the hottest Christmas sex positions to help get you in the mood. Will you be rocking around the Christmas tree or are you hoping for a sexy sleigh ride?
Stocking stuffer
Missionary is one of the most popular sex positions out there. If you love being in control then the stocking stuffer position is perfect for you. This is one of the Christmas sex positions that allows for deep penetration without being a huge change to the position you know and love.
This position is easy to get into, as it adds a simple twist to missionary. Get into the position as normal, but instead of lying down, bring yourself up to your knees. Cross your legs underneath you and use a pillow to lift your partner's ass up.
It allows for really deep penetration, and if you spread your partner's legs in the air you can go even deeper. Her hands are then free to touch herself wherever she wants, and it will be a great show for you!
Under the mistletoe
Want to make things a little kinkier? Standing sex is a lot of fun. You can pick your partner up and fuck them just like that. You might want a little support and so get them against the wall.
Standing sex is also the perfect time for you to get under the mistletoe. Mistletoe gives you the perfect excuse to kiss your partner, and during standing sex you are close enough to enjoy a little French kissing.
You could even change it up a little by doing some kissing of another kind. After fucking them, why not get onto your knees and eat them out? It will feel great and give them something incredible to remember.
Elf on the shelf
You will have probably heard about the 'elf on the shelf' craze. We can't escape it, so of course people have taken the name and turned the idea of it into one of the best Christmas sex positions you can enjoy.
For this position you will need a chair. That's it. Sit yourself down in the chair and get your partner to give you a sexy striptease before you get into the position.
Your partner should face away from you, so that their back is against your chest, before sliding onto your cock. You can reach around to tease their nipples and stroke their clit. It puts your partner totally in control, and she will love teasing you in this position.
Jingle balls
Sometimes you just want to have a hard and fast fuck. One of the best positions for this is doggy style. It is a favourite sex position for many, especially if you love staring at your partner's ass as you fuck.
Looking for a festive twist on it? The jingle balls position is a great one to try. Get into doggy style as usual, but make sure your partner is angled so that their ass is in the air and their head is on the bed.
Their legs should also be tight together. This will make it feel incredible as your cock slides into their tight pussy. Plus, your balls will hit their clit with each thrust, which is going to get them off a lot quicker. Want to really get close? You could even lock your partner's legs around you as you thrust to get deeper.
The hottest Christmas sex positions
Everybody has their favourite positions, but in the run up to the holidays it is fun to spice them up a little. You can turn any of your favourites into classic Christmas sex positions with just a few kinky twists.
Which is your favourite? How do you plan to make your favourite position a little more festive? Tell us all about it by leaving a comment in the box below! Latest posts by Lara Mills
(see all)