For anyone who is not currently stimulated by their own job, 'Hot Octopuss' have the perfect opportunity for you. The sex toy company are advertising for wait for it, a part time 'orgasm engineer'.
'Hot Octopuss will send the successful applicant prototype toys to review on a regular basis and he will be required to report back with all the naughty details.
Cutting Edge
The company claims to be at the 'cutting edge' of sex toy innovation after creating 'Pulse', the world's first 'guybrator'.
According to the ad, benefits include a flexible working day, the chance to work from home and a lifetime supply of tissues…I kid you not!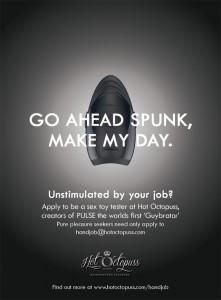 Successful candidates will be aged 18+, have good stamina, and of course must posses their own penis!
How To Apply
So does the prospect of working in the sex toy industry leave you buzzing with excitement? Do you believe you can grow into the role? Well if you feel you do, email your application to handjob@hotoctopuss.com, but get in quickly as they've already had numerous enquiries.
I have to say, I think I am going to apply for this one. It is very rare you get paid for doing something you love, and I certainly love jerking off!
So come on guys, get your applications in. One suspects that you will get plenty of cash to visit the Aberdeen escorts, and you earn that money by sitting around your house playing with yourself.
What is not to like about that?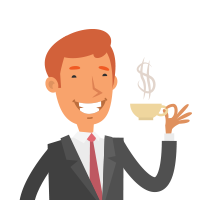 Latest posts by Martin Ward
(see all)