The amount of people out there who brag about their prowess in the bedroom and then can't deliver is shocking, and as a woman I find it unacceptable the amount of men I've been with who give up trying to get me to orgasm if I haven't done it in two minutes.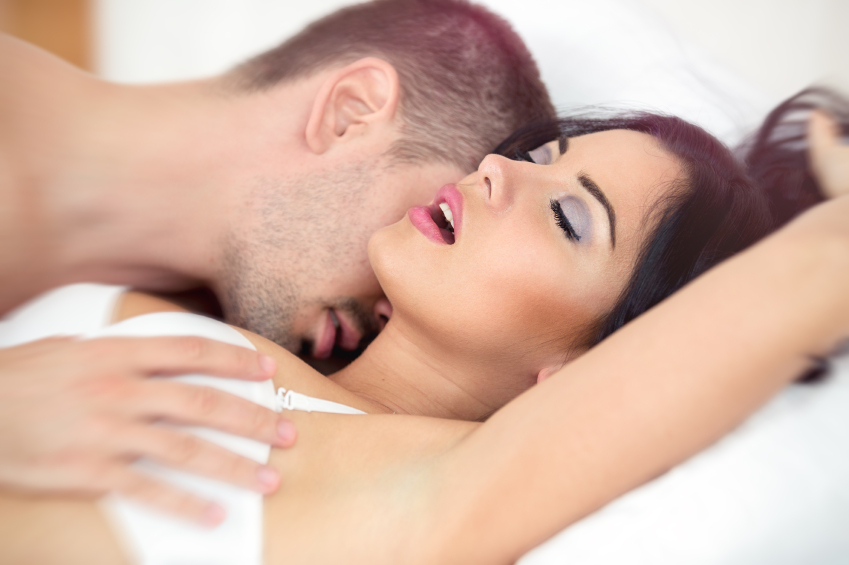 If you don't want to be that type of guy, or you simply want to show her a good time and keep her coming, you should check out the blog below featuring five tips to get her to orgasm.
Stop time
Imagine how you feel when you are put under pressure to not come. If anything, it makes it worse and you will probably blow your load a lot sooner. The solution there is to try and lessen the pressure on you, and it is similar for women. We often can't orgasm because we feel as though we are on the clock, and that if we don't come or at least fake it in five minutes then you won't bother trying again.
If you want to make her come, stop the clock. Remove all of the pressure that she is under to get there and show her that you are willing to lick her clit and finger her pussy for as long as it takes for her to scream your name as she orgasms.
That doesn't mean you should dive right in and eat her out like you are dying and it is the last thing you will ever do. We mean that you should take your time to slowly build her up. Teasing works well as we start to anticipate what you are going to do next… which gets us even closer to orgasm.
Give her boobs some loving
Far too often in the bedroom men will give our boobs a squeeze, maybe even kiss them a little, before they move on to other things. Our tits are then left cold because you don't come back to them.
Once you have started playing with them, keep going. By squeezing our nipples and licking around them, you make them more sensitive. When they are more sensitive you can then combine licks and gentle bites to get us even more turned on, which will get us that little bit closer to orgasm.
Not convinced that you should spend any time on our tits? Studies have actually been done to show that a small number of women can actually reach orgasm just through nipple stimulation. Imagine if you could do that to your hot and sexy woman! She would instantly think of your as a sex god, and we're pretty sure you wouldn't be denying it if she did!
Don't skip foreplay
Foreplay is often short lived. We don't know if it is because you get bored of it, or for some reason you think that foreplay means "four minutes of oral play", but it doesn't last as long as we'd like it to… and given the amount of women who struggle to orgasm from penetrative sex, you should be upping your oral game.
Take your time to really go to town on her with foreplay, and make it seem as though you are enjoying it. After all, an enthusiastic blowjob from a woman who seems to love sucking on cock feels a hell of a lot better than one where she sucks the once and pumps her hand ten times before sucking again.
As we said before, the best way to get her to orgasm is to start slowly and build her up. When you are licking her pussy right she will tell you, either by moaning or saying "yes!" or even demanding more. Listen to her and do as she commands to get her to orgasm.
Learn to multitask
We get it, men. You struggle to multitask. For some reason you find it challenging to do two things at once, but if you want to get your partner to scream your name out loud for the entire neighbourhood to hear, you need to learn how to do it.
A good way to do it is to lick her clit in time with whatever your hand is doing. This could be gentle strokes on her inner thigh to tease her, or rubbing her nipples while your head is in between her legs. You could even slide your finger into her pussy and use the "come hither" motion to stimulate her g-spot.
Whatever you choose to do, keep doing them in time with each other. If you start to speed up your tongue, speed up your hand to match. If you slow down your hand, slow down your tongue and mouth. It will keep her on edge and help to build the tension in her body, making orgasm that much closer.
Let her take the lead
Women find it easier to orgasm when we are on top. It is basically because we are in control and can change the motion and the speed to match what feels great for us. When the man is on top it is harder to explain what works for us, and that means we are often left orgasmless.
If you want her to have a great time, put her in control and let her take the lead. Sit back and relax as she climbs on top of you and slowly eases down onto your cock. Reach up as she does and fondle her tits, or move your hand to her clit to gently rub it as she rocks backwards and forwards. In no time at all she will be having an orgasm and you get to watch her body move as she does it. It will be one of the hottest thing you have ever seen, and it is a great reward for helping her get there.
Have you got some other tips that you think work better, or have you got something you'd like to read about on the blog? Let us know by leaving a comment in the box below, or head on over to the Escort Scotland forum and share your thoughts over there. Latest posts by Lara Mills
(see all)