Sorry guys, but when it comes to sex it takes a while to get us women in the mood. It isn't a case of seeing you naked and we are instantly ready to fuck you. Mentally, we might be, but our bodies need a little more time to warm up to it.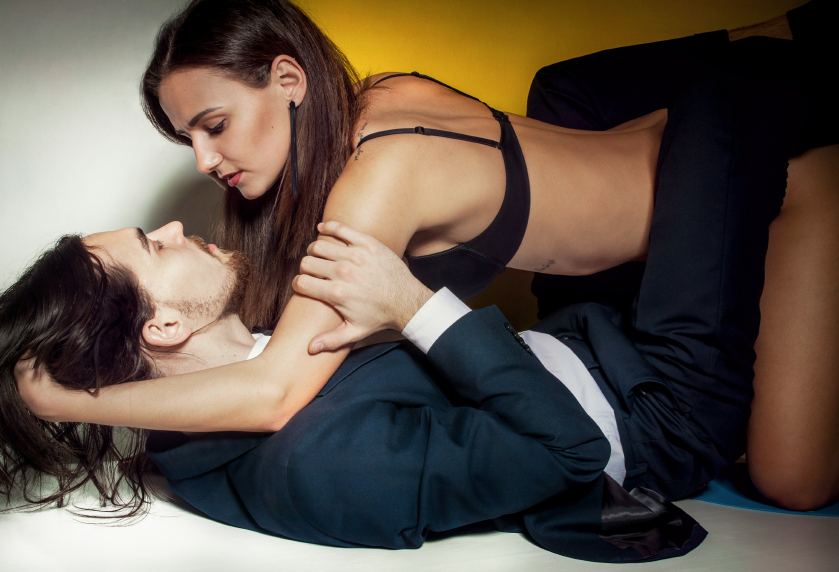 When we get into the bedroom, foreplay will either be skipped completely or rushed through. We get why – you are eager to get to the best bits, but if you want to have some truly amazing sex, you will want to take the time to help us get in the mood.
Have a read through our three sexy ways to help get her in the right mood, and try something new and exciting to make your sex life even better than before.
The long game
As it takes a little longer to get a woman turned on, one of the best ways to do it is to play the long game. Instead of meeting up with her later and trying to do it all there, start to get her in the mood before you even see her.
A good way to do this is by sending some flirty texts. Sexting is a great way to not only turn her on, but you can also try out some new things. If you are in the mood to try something different in the bedroom, it is a nice way to test the waters and see how they feel about it before you actually do it.
Start by sending a general message at the beginning of the day, such as "I can't wait to see you later". From there you can move on to hinting at how excited you are to see them. Say that you can't wait to kiss your way down their neck to get their imagination going, and they will then be thinking about it all day.
You could continue to sext throughout the day leading up to your date, and by the time you meet up you will both be totally ready to fuck each other hard. See how long you can both resist when you finally do meet each other to add that extra sexy tension and make things even more exciting.
The countdown
It might seem strange to take a timer into the bedroom, but it can actually make foreplay a lot easier. Simply set the timer for five minutes and take it in turns to give each other pleasure.
Start by lying back letting your partner take control. As the timer counts down you will find yourselves getting into it, so when the timer rings you'll be a little disappointed it is over. However, it is then you turn to give pleasure, and the timer will help make sure you give your partner enough attention.
Some will use a timer in a different way, and that is by setting it for five or ten minutes and then using that time to stand before their partner and slowly strip. If you find yourselves both completely naked before the timer ends, you aren't allowed to touch each other. Staring at your partner's sexy body while she looks at yours, but being unable to touch each other is hard to resist, and you will want to jump straight into bed when the timer does finally end.
Make it a competition
Something that many people will do, especially if they have a competitive partner, is make a game they enjoy into a fun foreplay scenario. This can be done with absolutely any game at all, from poker and cards, even Scrabble, if you get the rules right.
As you might have guessed, most of these games get turned into a strip-poker style scenario. Every time you win a hand or a round, your partner takes off an item of clothing. Everything time you lose a hand or round, you then have to take off an item of clothing.
This is fun to do as you will both get very competitive in order to strip the other out of their clothes, as the tension as the game heats up will be even better.
Some people like to add a twist, and say that the loser has to tell the other person about a sexy fantasy that they have. If you both like the sounds of the fantasy, you could then go and act it out. If not, I'm sure you'll be able to think of other things to try!
Just be creative!
As you can see, there is absolutely no limit to the hot things you can try in the bedroom to help to get her in the mood. If you are creative you will be able to think of hundreds of different games to play.
The keys to getting her in the mood are simply to build the tension and to get her fantasising about what will happen next. By slowing things down and giving her time to think, she will start to wonder just what you will do to her, once you get to see her. This will turn her on as she thinks of all the naughty things you will do to her body, and so by the time you do see each other, she is raring to go!
After that, it is simply a case of enjoying the time you have together. You could even sit down together afterwards and talk about what worked and didn't work for you. They could even suggest a hot new foreplay method to try!
Got some better ideas? Use the comment box below or head to the Escort Scotland forum and share your thoughts over there. You might even find some great sex tips for your next date! Latest posts by Lara Mills
(see all)