There is nothing quite like enjoying a hot threesome, but when you finally manage to make it happen you might find that there are a few things that people have forgotten to tell you about them. For example, they might have neglected to tell you the best ways to avoid awkward conversations afterwards, or just what you are supposed to say or do to kick things off. They might have also not mentioned what to do during the threesome, and which of the threesome positions are the best.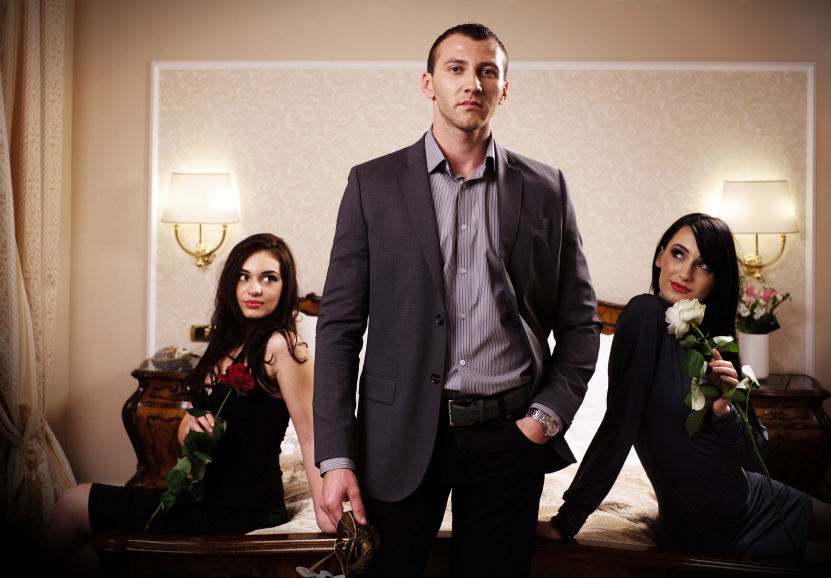 There are so many different sex positions that you can try, but when there are three people involved it can be hard to figure out which will be the ones to make sure everyone is involved. That is the one thing that people struggle with more than anything during a threesome, and if you get it wrong it can completely ruin the fun! That is why here on Escort Scotland we have put together four threesome positions to keep everyone happy, whether you are enjoying a MFF or a MMF threesome!
FFM: The line
One of the most popular positions for the man to find himself enjoying during a threesome is doggy. It allows him to really pound away into the tight pussy of a sexy woman, but during a three way it can be difficult to make this into one of the great threesome positions.
If the women involved in the fun are totally fine with a little woman on woman action, you can fuck one of them from behind while she goes down on the other. It is a great way of ensuring everyone is receiving pleasure, but one of the best things about this position is the great show it gives you.
You get to look down while fucking the woman from behind and see her licking away at another woman's pussy. It will be such a turn on for you that you might not even need to try foreplay first!
MFF: The triangle
There are two big issues with the above position. For a start, you might not be lucky enough to get two women involved who enjoy the girl on girl action that this can provide them. That means you will have one woman just watching and that can make things even more awkward. The other issue is that you might find yourself licking your lips because you want to taste that pussy instead.
The triangle is the perfect alternative, and all you have to do is lie back and attempt to keep your concentration. Get one of the women to sit on your face so you can eat her out and the other can then sit on your cock.
You will all get to enjoy the pleasure of this position and you get to enjoy being fucked while eating pussy. The women can also look at each other getting pleasured, which might be enough of a turn on to show them that a little girl on girl action is good. They can lean towards each other and try sharing a passionate kiss if the mood strikes them. If not, I'm sure you'll find other things to do.
MMF: The spitroast
If you happen to find yourself enjoying a MMF threesome, this will probably be the go to position for all involved, and there is a reason that this is one of the best threesome positions of them all.
It ties in well to the domination experience, as the woman will feel she is being well and truly fucked by two guys, as one takes her from behind while the other fucks her throat. It also makes the guys feel amazing, and you'll want to go as hard and fast as possible to get her off.
It is really easy to get into this position. All you have to do is have the sexy lady kneeling on all fours between you. Then you and the other guy can decide just where you want to go. You may want to start things off with a blowjob, or you might be eager to dive into that sweet pussy or ass. You can always swap when things get more exciting, so make sure you have plenty of condoms to hand so you can try something different!
MMF: The DP
One of the more popular threesome positions that you'll see in porn in particular is the DP, or double penetration. Usually the pornstars will be on the sofa, with one lying back and his cock in the woman's ass while other leans over her and fucks her pussy.
It can be a challenge to find the best way to work your cocks inside of her. The couch works well, but you might also find that one of you lying on the bed while she mounts you and the other takes her from behind works well.
If you are feeling happy with the closeness, and the woman is up for it, you could also try some double vaginal penetration. Make sure you have plenty of lube to hand and that she is feeling ready for it. If not, just stick to the ass and the pussy instead of trying to slide both dicks into her cunt.
Other threesome positions
There are so many other threesome positions for you to try, but we tend to overthink them. We start worrying about all of the little details when really we should be throwing ourselves into the threesome.

See someone licking their lips like they want a taste of something? Move so that they can have a taste. Feel as though someone is a little left out of the fun? Ask them what they want to do and then make it happen. It is a lot more fun if you are direct about the things you want in a threesome.
Have you thought of some other threesome positions you think will work well, or do you have suggestions for other things to try? Let us know by leaving a comment in the box below or by visiting the Escort Scotland forum and joining in the discussion there. Latest posts by Lara Mills
(see all)