Do you feel like you're not receiving the interest you're expecting from punters? Do you ever ask yourself why some escorts get more calls than you? Think your adverts are not as attractive as those of your fellow colleagues?
Well, the solution to these problems could be easier than what you think, and it could take just a couple of minutes of your time.
Whether you're a habitual user or a new escort on the site, it is essential to maximize the potential of your adverts, in order to boost the ads' visibility and make it more recognizable to a punter's eyes.
The way to do this is by completing the features and adding all the various options when creating your adverts on our site. These are very simple actions, but we'll make it even easier for you… We would like to give you the most important tips and advice on HOW TO CREATE THE PERFECT ESCORT ADVERT:
1) UPLOAD HIGH QUALITY PICS AND UPDATE THEM REGULARLY
The first and most important thing you need to do is to upload a reasonable number of attractive pictures of yourself. You have to think that these images are probably the first feature that clients will see of your adverts, therefore make sure to upload the most eye-catching pics possible!
Remember to upload high quality pics with good a resolution, to crop your images properly and always choose places with a good lighting, as shown below: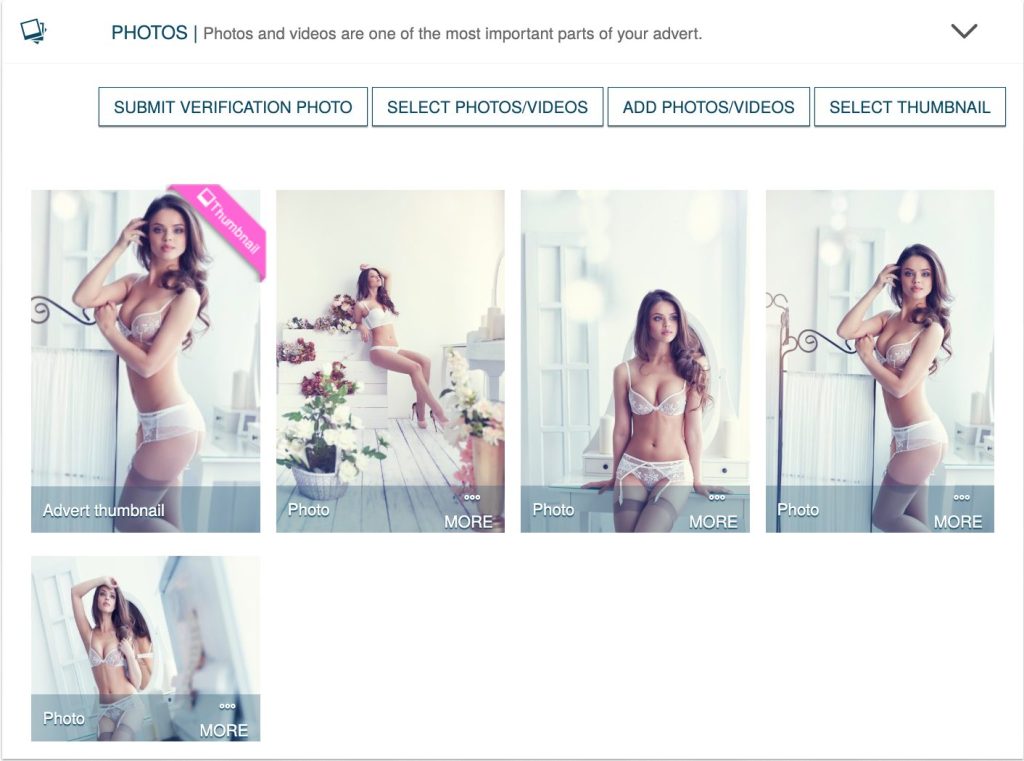 It is also crucial to update your images regularly, in order renew your ads with the most recent photos.
2) CREATE AN ATTRACTIVE INTRODUCTION
In order to create more connections and attract new punters, you shouldn't underestimate the importance of writing an appealing introduction. This will be your first real presentation to your potential new client… Make sure to use catchy wording and make yourself look "spicy" to the punters' eyes.  This means not only writing a couple of words about your name and location, but you can mention your interests, your strengths and all the favorite things about your profession. Remember that the more personal and original you can be, the more it will make you stand out from others.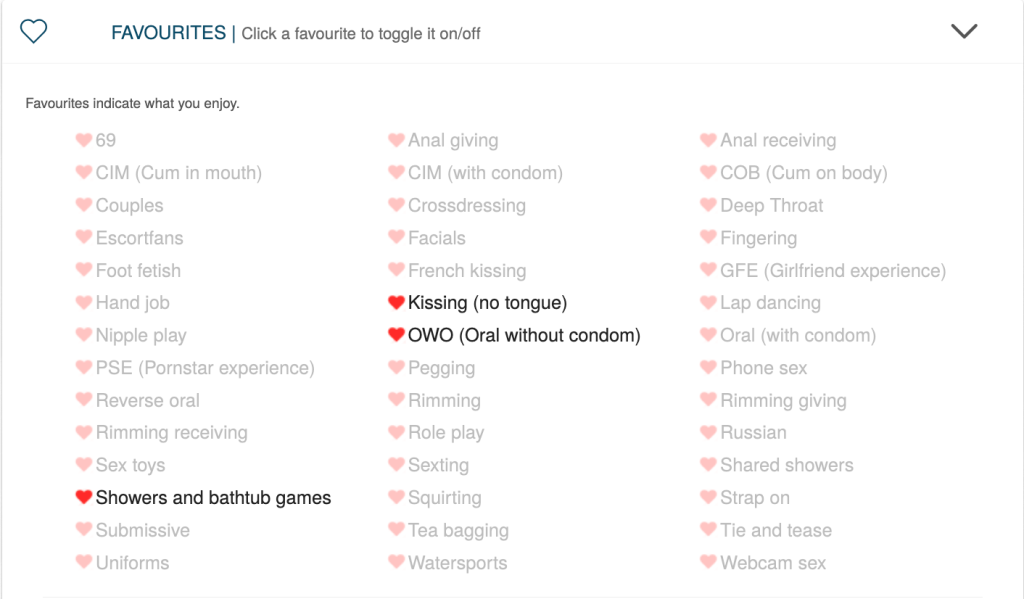 3) ADD ALL OF YOUR FAVOURITES
Now it's time to tell your clients ALL the sexual activities you enjoy the most. Maybe you're into foot fetish, you're an expert in webcam sex or maybe you fancy some kinky role play thing? Toggling on the activities you like the most is the best way to personalize and distinguish your profile from others. This gives the punter a clear and immediate idea of what he can expect from you, as well as making it easier for people to find you by using the toggle filter. By clicking on a particular activity, it's possible to have access to all the escorts that enjoy that specific category. It will now be definitely easier to get your advert found and noticed.
4) ADD YOUR RATES
Let me tell you something… It is a BIG misconception that exposing rates on your profile will have a negative impact on your business! Remember that quality doesn't come cheap, so don't be afraid to show all of your rates, for in calls and/or out calls. These are the reflection of your excellence so display them with confidence.
Your rates are one of the first things a potential new punter will ask for, therefore if punters have the possibility to consult the tariffs beforehand, it can help you to filter the committed ones in advance and also connect with punters within the same price range.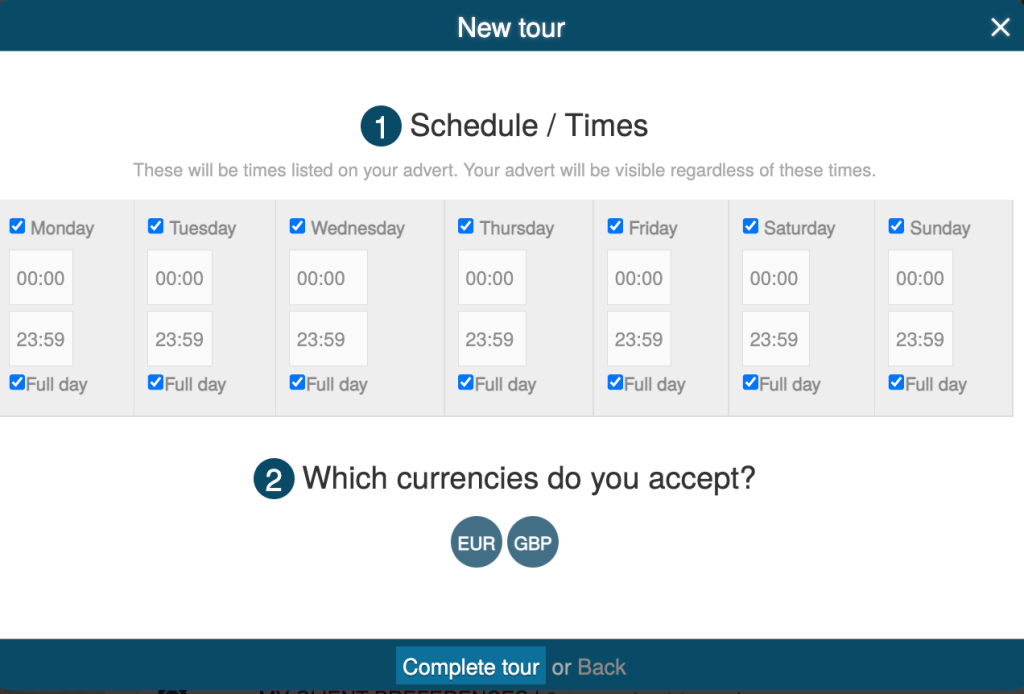 This will save you time and energy, letting you concentrate on what you really love to do…
5) ALLOW REVIEWS FROM CLIENTS
Reviews are always key strategic features for every business and they can actually help you a lot. These will serve as the "proof" of the excellence of your work to clients. New punters will rely on profiles with the most reviews and comments, as they will give them a sense of reliability and truthfulness from your side. Reading positive feedback about your activity can be very satisfying not only for a new potential punter but for you too…
But don't let this option scare you away and think that they could penalize you in some way…
We know that sometimes it can be frustrating to read some negative reviews or hateful comments, but as long as you know how to handle them, they won't really affect your reputation.

6) THE MORE CONTACT INFO, THE BETTER!
You know, when someone gets totally fond of you, and wants to get in touch with you, the easier the better… 😉
It's always a pity to lose punters because of flaws in communication, so try to establish a seamless system to make this process easy for them (and for you too!).
Make yourself within easy reach through all the various possibilities to get in contact with you.
Just remember to be available when you say so! This will show that you are professional and will help you to become even more successful.
You've now got everything you need… You're ready to create your perfect adverts OR upgrade your existing one and then… you're ready to play!!!
ENJOY! 😄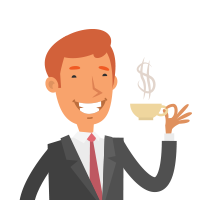 Latest posts by Martin Ward
(see all)